Latest news
quietearth
[Celluloid 06.14.08]
movie
news
action
Wow, this has been a big day for trailerage, too bad agentorange is off getting loaded in Las Vegas right now because I know he'll want to see this. Yes, we're all big fans of Jason Statham around here, so while this may be a Hollywood production (which we shy away from if you hadn't noticed), we're all still going to see it.
"Ex-con Jensen Ames (Statham) is forced by the warden of a notorious prison (Allen) to compete in our post-industrial world's most popular sport: a car race in which inmates must brutalize and kill one another on the road to victory."
You can watch the crappy youtube trailer after the break, but I would recommend heading over to
Yahoo
to watch it in HD.
Official Death Race Website
You might also like
Wraith (9 years ago) Reply

HD 480P (48.1Mb)
http://playlist.yahoo.com/makeplaylist.dll?sid=66411735&sdm=web&pt=rd

HD 720P (125Mb)
http://playlist.yahoo.com/makeplaylist.dll?sid=66412218&sdm=web&pt=rd

HD 1080P (180Mb)
http://playlist.yahoo.com/makeplaylist.dll?sid=66411753&sdm=web&pt=rd

soma (9 years ago) Reply

WOW

If lovejoy is in it. It must be good. He's come a long way from selling antiques. I wonder how he wound up in jail... Poor thing

cyberhal (9 years ago) Reply

drunk driving?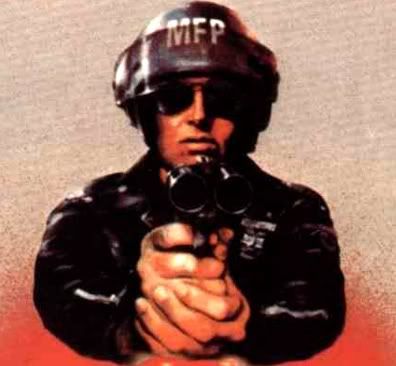 agentorange (9 years ago) Reply

It's probably a good thing my brain is still pickled from too many Vegas margaritas or my intelligence may have been insulted by that trailer. This looks unquestionably fun and Death Race is gonna be huge with the 14 yr old boy set, but fans of the original clearly have nothing to look forward to here.

Where's the satire? The over-the-top comic book sentiment? I mean, I didn't see one geriatric run over for a quick 100 points haha. Soma's right though, Lovejoy's in it so perhaps there's hope.... Of course I'll still probably see it 4 times in the theater.

sonaboy (9 years ago) Reply

hey look - Ford made another multi-million dollar Mustang advertisement.

Anonymous (9 years ago) Reply

This isn't a remake of Death Race 2000 so much as a adaption of Car Wars, they just bought the Death Race rights so they could use the name.

Mike White (9 years ago) Reply

Looks very "spy hunter" to me with the machine guns. Any coincidence that Anderson is doing that next?

Leave a comment