Latest news
Simon Read
[Film Festival 06.20.08]
movie
review
thriller
drama
Year: 2007
Release date: Unknown
Director: Ole Bornedal
Writer: Ole Bornedal
IMDB:
link
Trailer:
link
Review by: projectcyclops
Rating: 7 out of 10
Just Another Love Story is more than its title would suggest. Directed by Ole Bornedal (I Am Dina) and starring Anders W Berthelsen and Rebecca Hemse, the film is far from ordinary and at times really quite astonishing. The plot concerns Jonas, a family man and police forensics photographer who is involved in a car accident with the mysterious Julia, which results in her falling into a coma. Curious, Jonas visits her in hospital and is immediately mistaken for her boyfriend by her parents and sister. Jonas goes along with the charade and seems to fall more and more in love with this girl. After Julia wakes, 90% blinded by the accident and suffering from mild amnesia, she seems oblivious to the lie, which has begun to consume Jonas's life and all but destroyed his marriage. He doesn't seem to mind until Julia's real boyfriend surfaces, with a Yakuza bounty on his head.
Just Another Love Story sets up this intricate plot brilliantly in the first act. The pacing and clever dialogue draw you in and right off you're curious about where this story and its characters are headed. Bornedal handles the direction splendidly with some beautiful shots and imaginative cut-away fantasy moments, flashbacks and spooky hints that all is not well. There is also one hell of a car crash that I think rivals even Casino Royale's money-shot (only with a much cheaper car).
The film is not, however, perfect. I felt that after the story really kicks in and the scenarios start to play out, the narrative begins to drag, becoming relentlessly talky and a little slow and frustrating. I can overlook this though, the other aspects of the film - the acting, cinematography and dark humour - help to overcome any lulls in action and suspense. In one scene towards the end there is a very violent death, without ruining the film I'll just say that the method in which the character is done in is, I hope, intentionally hilarious and gory. Also the character of 'Frank', Jonas's drunken and cynical work colleague was a particularly stand out performance by Dejan Cukic. The character offers much appreciated comic relief, for instance he delights in pointing out spelling errors in suicide victims notes. Other stand out moments include a conversation Jonas has with the comatose Julia in his mind, without realizing that he's actually speaking out loud during a dinner party and managing to confuse and alienate his guests. If American Beauty met Run Lola Run with a touch of the Dogme '95 movement the result wouldn't be far off from Just Another Love Story.
You might also like
Cyberhal (13 years ago) Reply

Yo Projectcyclops, thanks for a great review. I will try and see this film.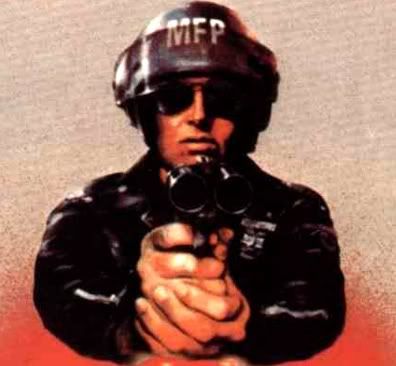 agentorange (13 years ago) Reply

Ya, this looks pretty cool. Thanks for the heads up man.

The Obscure (13 years ago) Reply

Gread Review! Does it have echos of 'Talk to Her'as well?

Anonymous (13 years ago) Reply

too many spoilers, but a good review. I liked the social angle too - criticism of the idle rich squandering their opportunities which ordinary hard working people would love. Lots of lovely moments - some quite shocking and surprising for me, showing a creative mind. The audience is made to feel quite uncomforatble for different reasons at different times. None of the characters are unflawed, but many have likeable aspects.

Leave a comment