Latest news
Christopher Webster
[Celluloid 07.02.08]
post apocalyptic
movie
trailer
news
scifi
Yesterday we brought you the news that Ron Perlman and Thomas Jane plan on screening a cut of The Mutant Chronicles at SDCC to ask fans for their input on how to make it better. Well now it looks like Jane is hosting the film's teaser on his personal website. It's hard to say how long it'll be around as it's not an official piece of studio released promotional material so if you want to see it see it now before it gets yanked. My initial thoughts on the teaser are that, while it's obviously a lower budget production, the film looks as good as I had hoped and is exactly what we love around here at Quiet Earth. It's got a hard edged and violent WWI atmosphere while all the scifi elements are handled in a very realistic and steampunk fashion. According to Jane, who spoke with
AICN
about the project, the film isn't even completed yet but "runs pretty intense" with "excellent model work." That's what we like to hear. Teaser after the break.
Teaser trailer
You might also like
quietearth (14 years ago) Reply

That was AWESOME. Dare I say if they do this right it could be one of the best films of all time?

Guy (14 years ago) Reply

Got to agree with you, this looks really cool, especially the whole dieselpunk/WW1 vibe. Loving those helmets. Whilst I'm sad its not more canon (because the canon is really cool) this looks like it's updating nicely and will be just as good.

Now if only we had some Venusian Rangers...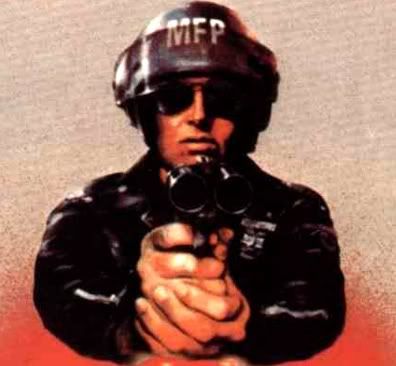 agentorange (14 years ago) Reply

Okay I just watched the trailer for the 3rd time. Awesome. I really hope this gets a wide release but I have a feeling it won't. But whatever, if it means I get to see the whole thing sooner than later then I'll take a straight to DVD thank you very much.

Is Ron Perlman sporting a Scottish accent btw?

projectcyclops (14 years ago) Reply

Man that looks boss.

Mr. Anonymous (14 years ago) Reply

That's very cool

Well I'm sorry but the less this looks canon the better. The real Mutant Chronicles world looks ridiculous. The filmmakers knew that and they made the Mutant Chronicles world look far better.

Leave a comment