Latest news
quietearth
[DVD News 07.22.08]
news
dvd
This week we've got some varied tastes to share with our picks so we'll start off with the incredible
The Last Winter
which is one of my personal favorites. We
reviewed the film
and highly recommend it. Next we'll move onto a scifi music piece by Daft Punk called
Electroma
, and from the sounds of this it might actually be post-apocalyptic. Then we have a drug and sex infused Asian film called
Help Me Eros
(trailer NSFW) which I'm looking forward to checking out. Carl Dreyer's experimental cult classic
Vampyr
is also getting a new release courtesy of Criterion. Last off we have the almost 8 hour long film
Sátántangó
which is quite incredible, it's a drama with lots of long takes and heavy silence. I actually have a copy of those but have only watched about the first hour but I plan to finish it. Check after the break for further info, trailers, amazon links and all that jazz.
The Last Winter
Purchase the Last Winter at Amazon
The American oil company KIC Corporation is building an ice road to explore the remote Northern Artic National Wildlife Refuge seeking energy independence. Independent environmentalists work together in a drilling base headed by the tough Ed Pollack in a sort of agreement with the government, approving procedures and sending reports of the operation. When one insane team member is found dead naked on the snow, the environmentalist James Hoffman suspects that sour gases may have been accidentally released in the spot provoking hallucinations and insanity in the group. After a second fatal incident, he convinces Ed to travel with the team to a hospital for examination. However, weird events happen trapping the group in the base.
Daft Punk's Electroma
Purchase at Amazon
Follows the history of two robots, the members of Daft Punk, on their quest to become human.
Help Me Eros
Purchase at Amazon
Ah Jie lost everything in the stock market due to a severe economic crisis. He spends his days in his sealed apartment, smoking joints and looking after the marijuana plants that he secretly grows in his wardrobe. In desperation, he calls a suicide helpline and gets to know Chyi, whose sweet and gentle voice causes him to fall in love with his fantasized image of her. He tries to ask her out but is repeatedly rejected. He begins projecting his fantasy of Chyi on Shin, the new girl working at the betel nut stall downstairs. Shin is always sexily dressed in order to lure male customers. Ah Jie becomes closer to her and soon the two of them sink into a world of erotic and psychedelic pleasures. At the same time, Ah Jie begins to stalk Chyi.
Vampyr
Purchase at Amazon
Young traveller Allan Grey arrives in a remote castle and starts seeing weird, inexplicable sights (a man whose shadow has a life of its own, a mysterious scythe-bearing figure tolling a bell, a terrifying dream of his own burial). Things come to a head when one of the daughters of the lord of the castle succumbs to anaemia - or is it something more sinister?
Sátántangó
Purchase at Amazon
n a small dilapidated village in 1980s Hungary, life has come to a virtual standstill. The autumn rains have started. The villagers expect to receive a large cash payment that evening, and then plan to leave. Some want to abscond earlier with more than their fair share of the money. However they hear that the smooth talking Irimias, whom they thought had died, is coming back. They are apprehensive that he will take all their money in one of his grandiose schemes to keep the community going.
You might also like
Marina (14 years ago) Reply

OMG. Electroma on DVD??? This played here for 3 nights and SOLD OUT all three nights. I was so disappointed. I'll have to search it out - thanks for the heads up on that one guys!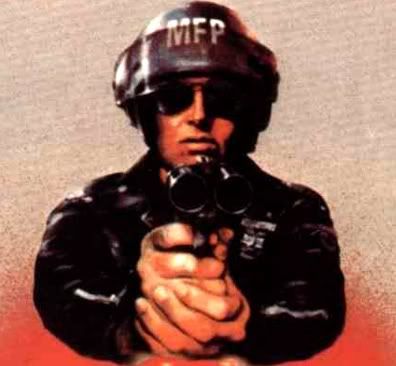 agentorange (14 years ago) Reply

Ah yes, Electroma. I was lucky enough to get a screener from VICE ages ago so I bypassed the screenings altogether. It's pretty great.

Leave a comment