Latest news
John Allison
[Film Festival 09.07.08]
movie
review
thriller
One can not help be reminded of Apocalypse Now and Who Can Kill A Child in Fabrice Du Welz's psychological ghost story Vinyan. The movie opens with an assault to the senses as the credits fill the screen and a blaring siren is played at what must be the maximum volume possible. As the credits fade we see what must surely be a view of someone drowning deep under turbulent water. Welz continues with this assault on the viewers throughout out the entire movie.
Rufus Sewell and Emmanuelle Béart are Paul and Jeanne Bellmer. Six months ago they lost there son, Joshua to the typhoon in 2004. Both have remained in Thailand as Jeanne is unable to move on past this tragedy. One night at a Jeanne glimpses what must surely Joshua in a DVD of some of the villages in Burma. Paul and others are unsure but in order to calm Jeanne down Paul agrees to head off on the dangerous trek into Burma. Initially they try to track down a member of the Triad whose name they have heard but they are intercepted by what must surely be a a conman who agrees to take them in but at great cost. Without any other hope they agree on his terms. The longer they travel with this man the more they realize that they are in over their heads.
Fortunately the Bellmers they meet up with the Triad member they know of and while he is still interested in the money he also appears more genuine. This is where the true journey of Paul and Jeanne begins. They are taken to the village and find the child but it is not their Joshua and Paul is ready to give up yet Jeanne refuses. At this point the movie turns and the viewers are left to their own as to whether Vinyan represents a crossing over of the into the spirit world or perhaps a descent into madness or maybe just maybe the movie is to be taken literally and what we get is a view of children who have finally been pushed to the limits of suffering and are now taking the revenge on the adults. Personally, I would go with a bit from column A, B, and C all together as Vinyan is a movie that is not meant to offer any easy answers to its questions.
Vinyan is beautifully filmed truly is an assault on the senses. It will also push many buttons and is sure to drive mainstream audiences away unfortunately. The closing scene alone is enough to cause Vinyan to never be seen in the majority of theatres. It is a shame as Vinyan is a strong psychological thriller with a fair amount to say. If you are someone who is willing to be challenged by a movie and pushed to the limits then Vinyan is one to check out when you get the chance.
You might also like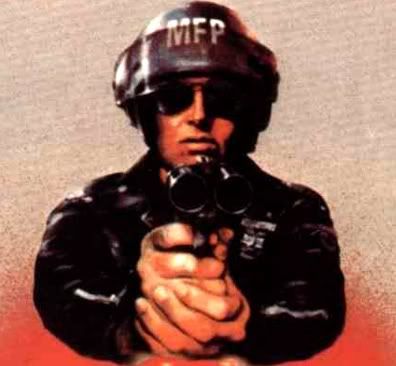 agentorange (13 years ago) Reply

Man, sounds great! If only the French could start pushing the scifi envelope like they've been doing with horror lately they'll own the genres. Can't wait to see this.

Anonymous (13 years ago) Reply

Many tsunami-survivors and especially those who have lost their children are upset by this movie. It sounds interesting I must admit, but I feel for them and I think it may be a bit premature.

John Allison (13 years ago) Reply

I disagree fully. The best way to work through a disaster is not to ignore it but to talk about it. Also, when is the right time. I'm sure there are people still alive who do not want the holocaust brought up in film as it would bring back very painful movies. Should we wait for everyone involved to have passed on?

Greg (13 years ago) Reply

I've already seen Vinyan 3 times. It's a wonderful movie, bold, daring, visually astonishing, moving... one of my favorite movies of 2008.
As for the people who are upset by the so-called exploitation of the drama, they simply haven't seen the movie! It is not in any way exploitative and the tsunami is just the starting point of the story.

rein (13 years ago) Reply

@ agentorange, Fabrice du Welz is not French, he's Belgian.

Vlado (13 years ago) Reply

Unbelieveably poor movie. If someone says that it is not for mainstream viewers, than it must be for sick viewers, or viewers that have nothing better to do. The movie tell nothing. The final scene tells nothing.

Michael Allen (13 years ago) Reply

When you say, "Jeanne glimpses what must surely Joshua in a DVD" I find myself disagreeing. From my perspective, on the DVD, I see the back of what looks like a white kid and nothing more. I think the director's intention was to make the boy's identity ambiguous. Great review.

Anonymous (13 years ago) Reply

Poor movie. There was no flow in the scenes & the last half of the movie was dragging.

Leave a comment