Latest news
quietearth
[Celluloid 09.15.08]
movie
news
scifi
comic
I don't really know if we can categorize this is as post apocalyptic, but it's surely something we've been clocking since it's been talked about for quite some time now.
SciFi
reports in an interview with director
D.J. Caruso
that they turned a script into Warner Bros last week and they'd like to start shooting after this winter with a hopeful release date of late 2010. They'd also like to do a triplet of films. Based on the comic by Brian K. Vaughahan:
"On July 17, 2002, something (referred to as a plague) simultaneously kills every mammal possessing a Y chromosome - including embryos, fertilized eggs, and even sperm. The only exceptions appear to be Yorick Brown, a young amateur escape artist, and his Capuchin monkey Ampersand. Society is plunged into chaos as infrastructures collapse and the surviving women everywhere try to cope with the loss of the men, their survivors' guilt, and the knowledge that humanity is doomed to extinction. Vaughan meticulously crafts the new society that emerges out of this chaos, from the conversion of the phallic Washington Monument into a monument to the dead men, to the genesis of the fanatical ultra-feminist Daughters of the Amazon, who believe that Mother Earth cleansed itself of the "aberration" of the Y chromosome, to male impersonators becoming valued romantically and professionally. Over the course of their journey, Yorick and his friends discover how society has coped in the aftermath of the plague. However, many of the women they encounter have ulterior motives in regard to Yorick. Though the subject matter of the series is entirely serious, Y: The Last Man is also noted for its humor. Yorick in particular is a source of one-liners, although the other characters have their moments as well."
Caruso apparently wants to seperate Yorick from his monkey Ampersand which will differentiate the film(s) from the comic. It seems like National Lampoon should be backing this one and I think at one point they were! More as it comes and thanks to Wilcoy for the heads up.
You might also like
BarbarPappa (13 years ago) Reply

National Lampoon?! What the hell.. This is a serious and adult PA story. I don't want it ruined by having bikini babes or something on the poster or DVD cover. :S

soma (13 years ago) Reply

didn't lampoons back the Beach Party at the Threshold of Hell. I thought that was pretty good for a PA flick.

SW (13 years ago) Reply

Also heard was Shia Labouf was supposedly playing Y. That's not right.

Wilcoy (13 years ago) Reply

I agree with BarbarPappa. This is an adult PA comic story. It's not a comedy piece at all nor a sex romp. More of a Post Apocalyptic amazonian story in which woman have inherited the Earth. I'd recommend it for any PA connisore...

sonaboy (13 years ago) Reply

when was the original source material for the graphic novel written?
having all the men disappear wouldn't exactly doom humanity to extinction, since women would be able to artificially inseminate themselves until a spermatozoa carrying the X chromosome fertilized their egg.

in fact, the civilized world would probably get a lot better, eventually.

quietearth (13 years ago) Reply

The spirit is willing but the flesh is spongy and bruised!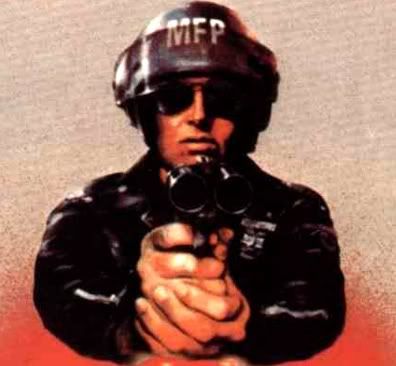 agentorange (13 years ago) Reply

Haha, the Zapper!!

Leave a comment