Latest news
Christopher Webster
[Celluloid 09.25.08]
post apocalyptic
movie
news
For those of you who don't remember, Wynter Dark is an epic post apocalyptic adventure flick that's currently in production over at 20th Century Fox. It first came to our attention back in July and since then we've been eagerly awaiting more info from the production. luckily for us, one of our regular readers, Wraith, came across some stunning art work on the film's
creative director's blog
(someone correct me if I'm wrong on that one). Both pieces of art feature epic scenes of human vs. Polar Bear action that makes The Golden Compass look like the Care Bears (SNAP!). Once again, here's the synopsis;
set 800 years in the future, in a world gripped by a devastating ice age, the Kingdom of New York is besieged by the Kindom of London and the Empire of Neo Tokyo in a bitter battle for freedom
. See, that just sounds awesome. Anyway, check out the artwork after the break and stay tuned for more on Wynter Dark.
You might also like
quietearth (13 years ago) Reply

Please, somebody fund this so we can watch it!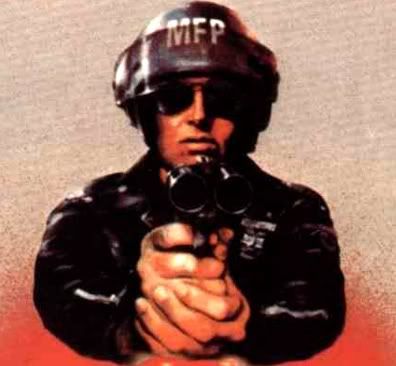 agentorange (13 years ago) Reply

Your in luck! From what I understand, it's a go with 20th Century Fox fully on board.

rcdude (13 years ago) Reply

So this is the 'what if?' movie of if all the water in Water World froze? XD

Curt (13 years ago) Reply

Is this one of those Roland Emmerich films ?

If so, it's gonna suck.

Rui Brito (12 years ago) Reply

yet another crap action film pretending to be sci-fi? Move along, nothing to see here.

Leave a comment