Latest news
Hal MacDermot
[Film Festival 10.12.08]
movie
review
horror
Year: 2008
Director: John Gulager
Writers: Patrick Melton & Marcus Dunstan
IMDB:
link
Trailer:
link
Amazon:
link
Review by: cyberhal
Rating: 7.6 out of 10
Topless biker chicks, the most disgusting monster autopsy ever, and insane, unsafe, full on puking, gross out, funny-rather-than-terrifying, blood drenched scenes. Oh baby. The politically correct and faint of stomach should stay away from this movie. Director John Gulager works his sick magic again, again with writers Patrick Melton and Marcus Dunstan, both of whom worked on later Saw movies and the upcoming new Hellraiser. This time he's doing it without the Project Greenlight Squad, and there's a bit less production money flying around. In the Q &A afterwards, Chu Gulagar (barman in the movie, Dad of the director in reality) said: "this movie makes loving fun of what we love. It's a kind of satirical take on Clive Barker and Quentin Tarantino." It was interesting when I heard this because I actually was thinking during the movie that it was a bit like Planet Terror, but better in some ways, as it's the real thing. Rodriguez I know, whatever.
"It's the morning after the initial attack and the nasty flesh-eating monsters are invading the nearby town. Those lucky enough to have survived the night join a twisted group of locals whose only goal is to stay alive - - - no matter the cost."
Quite a few characters have survived from the first movie. The beautiful Honey Pie (Jenny Wade) has made it, and she spends most of her time losing clothing as she defends herself from sex mad monsters in a grocery shop. Watch out early on for her bloody fight with old man Chu and see what happens to his ear, it's awesome (I'll let you judge for yourself about the toilet thought). Vengeful Biker Queen (Diane Goldner) and her feisty tribe of bad assed biker babes have also made it to town, and they're pissed as hell, and looking for the man who killed their gang sister. The Biker babes spend most of their survival time on the roof of a store, with a hotch potch band including a decomposing and Spanish speaking grandma, and Slasher (Carl Antony Payne II), a sleazebag car salesman, who weirdly made me think of a cross between amoral Bernie Mac (RIP) in Bad Santa and car salesman Jerry Lewis in Arizona Dreaming. Everybody's aiming to make it to the well protected jail where a tweaked out meth addict is holed up and not letting anyone in.
Feast 2 is not as script-witty as the first movie, and it works more with the gross visual humor and the OTT characters. A pair of midget wrestlers for example. A posse of hungry and sex made monsters that will tear apart and screw more of less anything, including a pussycat. Oh poor pussycat. I thought the cast did a good job, and I especially liked the performances of Carl and Chu. The score was punky, but wasn't quite as on point as Feast I. I think some people will think the film's a bit naff, or too Troma or something, so if you don't like unhinged gore, cleavage and puking , don't say I didn't warn you. I enjoyed this movie, and I'm not really a Troma fan. The effects, yes well hmm. The carnage and decomposition is good, and some fun wet n' wild monster money shots (yes, that's right). But I wasn't totally convinced by the somewhat dodgy "men in the monster suits look" running around town. I liked the way the monsters moved so fast in Feast I, and they've slowed down a little this time around. The green screen work needs definitely a bit more work.
After the movie, the cast and director came out to say hello, including Biker Queen, Honey Pie, adulterous Secrets, Slasher, untrustworthy Greg and of course the Director. We learned that they had so much fun they're doing it all again in the Feast III: Happy Finish. We were also treated to an early cut of a scene where monsters attack our heroes on a darkly lit meth-lab bus and then the screen read "bus bursts out of the ground." The scene looked good, but too short to do anything more than wet the appetite. Also learned that Honey Pie's agent strongly advised her not to do Feast II, so she got rid of him. You go girl! In conclusion, get some people around to your house, order loads of sloppy pizza, and press play.
You might also like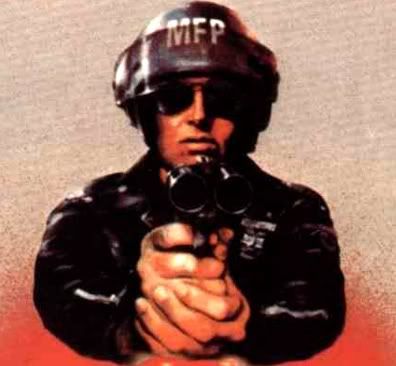 agentorange (13 years ago) Reply

Sounds like the screening was a blast1 You'll be happy to know that Feast is part of my Halloween monster marathon!

cyberhal (13 years ago) Reply

yes and I sat next to the girls from Vampire tv, which was an eye openier

Chris (13 years ago) Reply

Quick note: It's actually CLU Gulager, not CHU.

Leave a comment