Latest news
quietearth
[Celluloid 10.17.08]
movie
news
drama
I've been clocking this for a while now as it's premiering at the London Film Fest, but unfortunately our London correspondent won't be able to attend the premier due to a conflicting schedule so we'll have to settle for what's publicly available, and right now that's a full synopsis and 3 clips! For those familiar with
Green Street Hooligans
and how good that was, this is a more British version sans any American actors.
"On the Wirral in the grim early years of Margaret Thatcher's premiership, the opportunities for thrill-seeking young men looking to escape 9 to 5 drudgery are what they've always been: sex, drugs, rock n' roll, fashion, football and fighting. Paul Carty (Nicky Bell) goes to the game, chases skirt, pores over records in the racks at Probe, and gets to see Echo and the Bunnymen, but his fraught family life and dull job leave him feeling bereft. Becoming mates with the Berlin Bowie romantic Elvis (Liam Boyle), Carty is drawn to The Pack, a faction of football hooligans who own the terraces, a gang that Elvis is finding hard to distance himself from.


Endearing himself to The Pack's General, John Godden (Stephen Graham), Carty throws himself into a world of boozy train journeys, Stanley knives and savage violence. Skillfully directed by Pat Holden, with a script adapted by Kevin Sampson from his own cult novel, Awaydays is an exuberant thrill, an outstanding rites of passage movie with intelligence and depth that is superior to any recent film dealing with hooliganism. The violence is brutal and horribly realistic; period details are impeccably recreated; and the strident, post-punk soundtrack that propels the action is superb."
Head over to the
official website
to see the clips. It drops in spring of 2009!
You might also like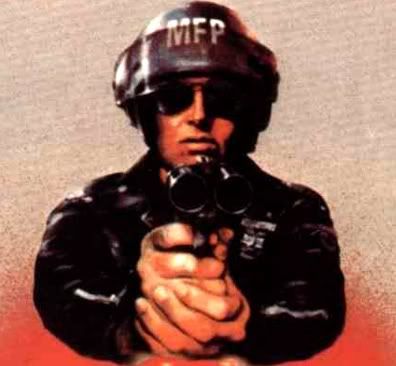 agentorange (13 years ago) Reply

You should see Larry Clarke's The Firm with Gary Oldman as well. It's great.

http://www.imdb.com/title/tt0095158/

Soma (13 years ago) Reply

Also I.D and the football factory

Jepson (13 years ago) Reply

Just seen AWAYDAYS at LFF, best hoolie-related film ever, got a story that breaks your heart as well as top aggro.

jagged edge (13 years ago) Reply

also saw it at London Film Festival.. its a beauty, made me wish I was 19 again. Can't shake it off!

Leave a comment