Latest news
Rick McGrath
[Film Festival 10.25.08]
movie
review
short
Sure, it was great to experience this year's lineup of feature films at TAD08, but also included with each screening was a generally-fantastic short film, mostly of the darkly humorous variety. Here, then, is a little wrap-up of the short films I saw that got the ghouls giggling this last week.
#1: Treevenge. Canada, 2008. Directed by Jason Eisener. Rating: 9/10
A great concept, beautifully executed. We follow the brutal hacking, packing and deco-racking of a group of prescient Christmas trees as they go from the forest to xmas morn in a cul-de-sac of middle class families. Then they snap, with gruesome and hilarious results, attacking and killing everyone in the neighborhood, from the unbelieving parents to an unforgettable scene with a little baby. Gory and yet oddly funny. You'll never look at an xmas tree the same way again.
#2: The Auburn Hills Breakdown. Canada, 2008. Directed by Geoff Redknap. Rating: 7/10
This is a funny riff on the hillbilly killers genre, as a family of deadbeats – Mom, the silent daughter and grunting skin-masked son – have their truck break down and seek help from a brutally upbeat, bourgeois family in their spiffy, sprawling home. Just the opposite of what you'd expect happens, and yes, very scary does come in many forms, depending on your point of view. The audience loved it.
#3: Lazer Ghosts 2 – Return to Lazer Cove. Canada, 2008. Directed by Steven Kostanski. Rating: 8/10
Another great idea: the short as a trailer for the non-existent sequel to a non-existent movie. The characters fly by, the plot seems surreal, and the action may make some sense to someone, but the combination of hard-sell and soft plot makes this a whirlwind of laughs and satire. Heck, now I want to see the movie!
#4: The Bumblebee Man. Canada, 2007. Directed by Ryan Cavan. Rating: 5/10
A pretty cool idea – bumblebees are people who lurk in a big abandoned complex and who speak in a kind of overblown Shakespearean way. The B-Queen is killed by Butterfly Men, and the B-King chooses a non-bee as his new wife, disturbing his Polonius-type advisor, who poisons her while the B-King is revenging the hive against the Butterflies. OK so far, but for some reason these bees are continually shooting up with stingers that are hypo needles. Is this an anti-drug piece? Hard to tell, and hence the mediocre rating.
#5: The Flower. Canada, 2007. Directed by Dale Hayward. Rating: 8/10
Simplicity is often hard to beast, and this animated short tells the simple story of a flower that's having a great day, except for some very nasty things that keep happening to it. Sort of like Mr Bill ( the SNL gumby) as a plant.
#6: Hydro-Levesque. Canada, 2008. Directed by Matthew Rankin. Rating: 6/10
I think this is some kind of Canadian in-joke, but the plot is so obscure it's hard to tell what's going on. A miracle of post-production, Hydro-Levesque involves the now-deceased Premier of Quebec, René Levesque, a catholic sister also named René Levesque, the city of Winnipeg and some kind of plot to destroy the province of Manitoba. Maybe. It's hard to tell, but the visuals are pretty hot, and it looks like fun.
You might also like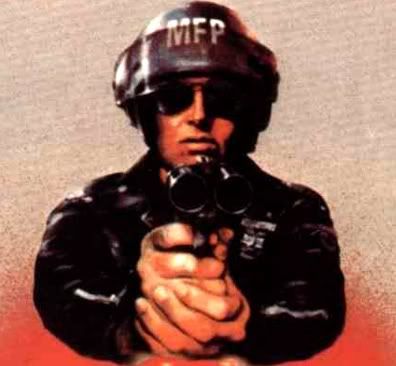 agentorange (13 years ago) Reply

I just saw Treevenge last night at the Deadmonton Film Fest. It may have been the hit of the night. It's by the guys behind Hobo with a Shotgun.

Leave a comment