Latest news
quietearth
[Film Festival 10.28.08]
movie
news
Finally a film festival near me, and it actually has some flicks I've been looking forward to seeing, but first off, I'm in Northern Colorado, so if you're going to DFF and would like to meet up, talk genre film, or just rip on Hollywood crap, drop me a line via our contact link at the bottom of the page. DFF runs November 13-23 at the Starz film center in Denver which is one of the only places which plays real films (I go there to do reviews of limited theatrical release stuff).
Of the highlights which include a bunch of dreary Cannes dramas, the one I would recommend most would be David Prior's Lovecraftian horror short
AM1200
. I just saw it this past Friday and it's nothing short of fantastic. Next we have something I want to warn people about, it's the French scifi flick
Eden Log
, it's incredibly cryptic and boring, don't bother! On to nicer things, twin sisters Nicola and Teena Collins give us a rare look at the cockney gangster lifestyle in the East End in
The End
. Matteo Garrone's mafia underworld flick
Gomorra
is playing along with Billy Plympton's latest animated craziness in
Idiots and Angels
. Russia's foreign Oscar nomination
Mermaid
is also playing, and I can't wait to see it. Yup, just in case you were wondering Turkish auteur Nuri Bilge Ceylan's
Three Monkeys
is covered. Let's not forget the animated Israeli documentary
Waltz With Bashir
, and while there's a couple I'm leaving out of this list, let's finish off on a high note. Two films I'm definitely going to be seeing,
Wendy and Lucy
and Darren Aronofsky's
The Wrestler
.
You can check out the full
lineup here
.
You might also like
Bill (13 years ago) Reply

Eden log was awesome. Cryptic and boring? are you serious, how can you talk about ripping on Hollywood crap while you take that approach to cinema. I am seriously surprised.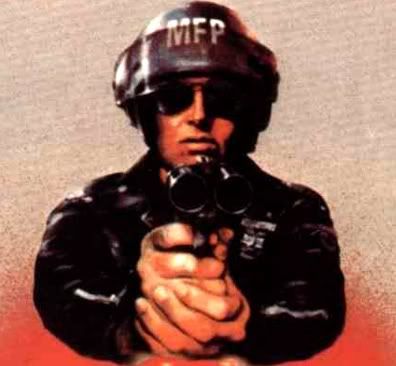 agentorange (13 years ago) Reply

I liked Eden Log as well but also felt that, while visually great, it was full of missed opportunities and failed to deliver in many departments.

The basic story was great and the concept to tell it in reverse was intriguing but the narrative engine was pretty slow (and yes, perhaps a little too cryptic at times). You have to admit that the cave dwelling monsters were also underused. There was an opportunity to mix the scariness of The Descent with thought provoking scifi and it just doesn't shine through.

Also, we reserve the right o rip on anything we want ;)

Leave a comment