Latest news
quietearth
[Celluloid 10.28.08]
movie
news
scifi
western
This will be Rene Hinojosa's first feature after only a short, but based on the storyline and conceptual design I'm holding high hopes. It's billed as a spaghetti western scifi film on another planet, heck yeah! The film is currently in pre-production and it looks like casting will be finishing in early December.
"Dust kicks up along a nearly deserted street. Three bounty hunters stage an ambush on a known criminal. But as they rush into the stone building where the suspect is known to be hiding, they each meet their end at the hands of their prey.

For some, this scene would seem to describe a time when law and order were decided by how fast a man could draw a gun. The old west. But imagine this scene playing out on another planet in a distant galaxy.

Award-Winning Writer, Producer & Director Rene Hinojosa presents Templar: Honor Among Thieves, an epic story that pays tribute to the classic genre of the "spaghetti western" but sets the action against the canvas of a galaxy on the brink of chaos.

At its heart, the story pays respect to the classic tales of western mythology and its character archetypes. There is the lone gunman, the anti-hero, who finds himself always on the edge of darkness. Bound to a life of greed, he sets off on a quest to attain the unattainable. Joining him on his journey is the thief. A man who is much more than what he appears to be and who holds a secret so valuable that many have pursued him across the galaxy just to discover it. There's the femme fatale, a beautiful woman on the run and who has a low tolerance for the stupidity of men. And finally, the mercenary. A man with a reputation for always seeing the job through once he has been paid. Together, these four fortune hunters will seek to best each other in their quest to claim the ultimate prize.

Greed Knows No Allies…"
There is a whole slew of concept art after the break (our gallery system is broked but we're working on it), along with a teaser which doesn't show much, and a video of a cool machine gun/handgun test, so check it out!
UPDATE
: Writer/Director Rene Hinijosa got back to us with some more details, including some links to blog posts which show the pre-production phase along with some more conceptual art, so check em out.
http://www.templar-movie.com/blog01.html
http://www.templar-movie.com/blog02.html
http://www.templar-movie.com/blog03.html
Myspace page
Templar official website
You might also like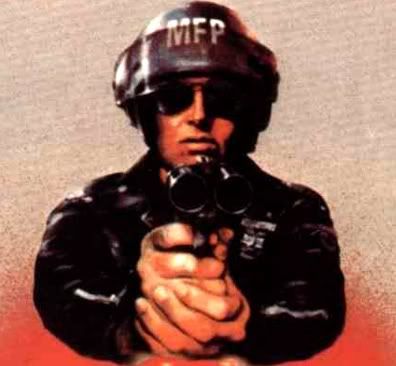 agentorange (13 years ago) Reply

Awesome hardware!

rcdude (13 years ago) Reply

Is tis thearical (or how ever you spell that <.<) Or is it idependent?

G.H. (13 years ago) Reply

I'm pretty much picturing Muse's Knights of Cydonia video.

Leave a comment