Latest news
Christopher Webster
[DVD News 12.14.08]
movie
news
scifi
dvd
horror
Easily one of my favorite movies of the year, Timecrimes just yesterday began making it's way across the country in a limited theatrical run. Even though we've seen it, we've sworn to remain tight lipped about our thoughts until the flick drops on DVD so I'm really excited to report that the film is finally up for
pre-order
from Magnet Releasing.
Hector is relaxing on a lawn chair outside of his new country home when he catches sight of a woman amidst the trees. Hiking up to investigate, he is attacked by a sinister figure whose head is wrapped in a grotesque, pink bandage. Fleeing in terror, he takes refuge in a laboratory atop the hill, where a lone attendant ushers him in to a peculiar scientific contraption. He emerges what seems to be moments later, only to find that he has traveled back hours in time, setting in motion a brain-twisting, horrifying chain of events when he inadvertently runs into himself.
The film will street on March 31, 2009 and it's honestly amazing. A tight thriller with a truly mind bending concept behind it. I've tucked a trailer after the break to wet your appetites.
You might also like
quietearth (13 years ago) Reply

yup, this is one awesome flick, it lives up to the hype unlike let the right one in.. ugh.

filmlyfe (13 years ago) Reply

this trailer....reaction cut reaction cut reaction. Looks allright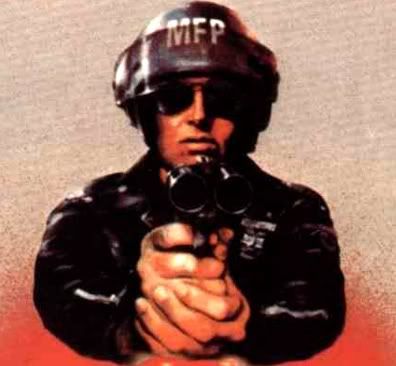 agentorange (13 years ago) Reply

This isn't the best trailer but in the interest of not giving certain things away I decided to go with it instead of the spoilery domestic one.

Pat (13 years ago) Reply

the trailer is ok...but there better be a fucking good explanation why he is wearing a fuckin bloody towel round his head in the future. it makes no sense to me so far and just looks completely retarded.

rcdude (13 years ago) Reply

It Looks good to me, but yeah. Kind of what I assume Pat hinted; I think the guy with the towel thing around his head is the main character. Don't know yet, just guessing.

S (13 years ago) Reply

don't read too much into it - you'll spoil it
it's a brilliant film
also, it has a fair share of humor in it, which i don't think has been mentioned anywhere

Jackill (13 years ago) Reply

Movie is absoultely fantastic.
4 Actors, plot everything is great.
One of the best movies I've seen this year.

Leave a comment