Latest news
Christopher Webster
[Celluloid 01.24.09]
post apocalyptic
movie
trailer
news
scifi
Longtime QE readers will already know just how closely we've been following
The Mutant Chronicles
since it began production. We were one of the first to
review
the film, bring you a whole slew of behind the scenes
photos and art
for the film, and
interview
the man behind the project himself, Simon Hunter.
Despite having found a vocal legion of early detractors and middling early reviews, The Mutant Chronicles has been picked up for limited screenings and an eventual DVD release from Magnolia. For a number of reasons, the film made my own personal
top 5 films
of 2008 and I'm glad to see that, critics be damned, Hunter's ambitious film wasn't allowed to languish in obscurity.
In terms of the trailer, I'm not quite sure why it's being considered restricted. It looks very similar to the last trailer that emerged. But it's here for you nonetheless, and that Asian poster is pretty swanky too.
You might also like
em0 (13 years ago) Reply

i can't wait for the DVD release of this, it's one of my favorite's of last year too.

Cyberhal (13 years ago) Reply

i need to see this now

Freez (13 years ago) Reply

Its out on dvd now, see amazon.de :)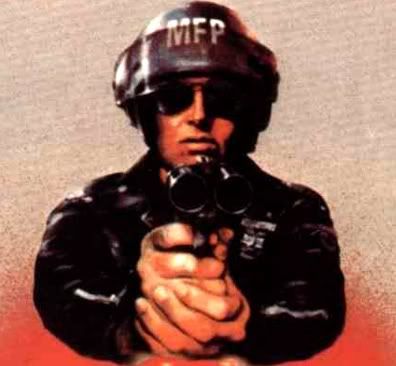 agentorange (13 years ago) Reply

The German dvd is the one I have. It comes in a sweet steelbook case and loaded with interviews but it doesn't have English subs. There are only 2 or 3 scenes that require them but it still bugs me.

Patrick Balfour (12 years ago) Reply

Good film and I got the region 2 DVD which has a great documentary on it. Does the Jap DVD have it too?

Leave a comment