Latest news
quietearth
[Celluloid 01.25.09]
post apocalyptic
movie
news
Yup, here it is folks, we found the FIRST trailer for Carriers which the folks at Paramount Vantage have been sitting on for an unfortunately long amount of time now.. Was it officially released? Well, not exactly, but let's just say research and patience go a long way. Now you may wonder why are we excited about this film? Well maybe it's the whole post apocalyptic avian bird flu thing.. yeah, that tends to get us a little excited around here. Does the footage look good? You better believe it!
A deadly virus has spread across the globe. Contagion is everywhere, no one is safe and no one can be trusted. Four young attractive people race through the back roads of the American West to the pounding beat of a vacation soundtrack. Their aim is to retreat to secluded utopian beach in the Gulf of Mexico, where they could peacefully wait out the pandemic and survive the apocalyptic disease. CARRIERS follow their getaway through a surreal and dangerous world where laws and rules no longer apply. Their plans take a grim turn when their car breaks down on an isolated road starting a chain of events that will seal the fate of each of them in an inexorable and horrifying voyage of hell through a western landscape populated by only the hideous dead or the twisted living. Their desperate retreat south turns into a deadly battle against infected children, homicidal doctors, crazed survivalists, rabid dogs, and, finally each other. The virus is the least of their problems as horrible choices must be made in the face of lost humanity.
Trailer after the break.
You might also like
rcdude (13 years ago) Reply

Looks good to me :D I though it was going to be a little more lower budget than it looks. I want to see it! :]

bad dog (13 years ago) Reply

Wow, this looks freaking AWESOME. None of it looks big budget, but they showed what you can do with some creativity and attention to detail. (Usually with these low budget films they don't even look like they're trying...)

Please keep tabs on this one for us, QuietEarth!

pat (13 years ago) Reply

will have zombie elements right? i mean the dude with the red eyes looks like an "undead". to me it looks like the most interesting zombie-esque flick in months.

quietearth (13 years ago) Reply

Yeah this looks great, but unfortunately I don't think this will have zombies.. it looks like a straight up plague film.

pat (13 years ago) Reply

u sure, to me its implying with the voiceover and everything that a lot of people simply die from the plague but "some" come back as THE CARRIERS. u kno? could be a major spoiler, i m sorry but i thought thats what the whole red eye, lifting ur head even thou i look really dead business was all about...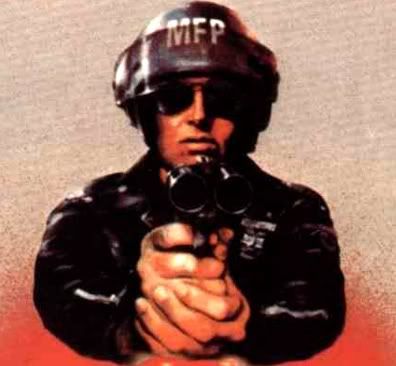 agentorange (13 years ago) Reply

Definitely one of the best PA trailers we've come across in a while. Why Vantage is sitting on this I'll never know. Maybe they're waiting for another high profile zombie film like World War Z to come along so they can better... realize synergies... and cash in on public demand for virus films.

At any rate we'll be following this one very closely.

Galdersorg (13 years ago) Reply

I'm there. Where do I buy tickets?

bad dog (13 years ago) Reply

Zombies, straight-up plague movie, it looks like it would work either way. I'm in...

Lobster (13 years ago) Reply

Oh man that looks sick! Agreed... best PA trailer in some time.

Jason (13 years ago) Reply

Thanks for posting this. It's nice to finally see how it came together. As the "dude with the red eyes" I am just in the advanced stages of the pandemic before death. No zombies but a good film regardless.

Thanks for checking it out!

http://pro.imdb.com/name/nm2143506/

quietearth (13 years ago) Reply

There you go folks.. no zombies. Now pay up! hah!

Jeff (13 years ago) Reply

No Zombies! There's a spoiler...Red Eye Dude(RED). Man, this looks great! Top of my list just got amended.

pat (13 years ago) Reply

aw ok, well fair enuff. i dont think we need any more zombie movies anyway...still lookin forward to it, shud b a kul ride.

do u kno what the budget was...ish?

Leave a comment