Latest news
quietearth
[Celluloid 02.06.09]
movie
news
horror
thriller
Having had a varied career starting with hip hop and R&B on radio, and moving on to acting, and directing in tv,
Hush
is Mark's feature directorial debut, and what a doozy it is. Based on a beautifully shot highway road trip in the rain, our protagonist just happens to see a girl locked in a cage in the truck in front of him. And while he notifies the police, he continues to follow this story to it's end. I've already seen this flick and I have to say it's quite good, standard in plot, but atypical in it's execution which keeps you guessing right up till the end. I highly recommend it, but unfortunately it looks like it'll be running the fest circuit for a while.
Tired and irritable, Zakes Abbott drives home along the motorway, his girlfriend, Beth, asleep beside him. Failing to spot his exit he speeds across the causeway, cutting up a white van and barely avoiding an accident. Apoplectic with rage, the truck driver gives chase, and as he violently overtakes the tailgate flips up revealing a woman bound and bloodied in the back. But before there is time for a second look, the door is slammed shut and Zakes is left bewildered and wondering if what he saw was real. Later at a service station, Zakes' fears grow when Beth goes missing, and as he begins a frantic search, he is enticed into a deadly game of cat and mouse on the deserted motorway. But being the sole witness to the earlier scene, how does he convince others of his desperate need for help? Playing on our most primal fears, this taut suspense thriller challenges a world where we constantly turn responsibility over to someone else and asks the question: what do you do when there is no one else there?
UPDATE:
Thanks to the lads over at
24fps
, we now have the first quad poster for the film. Nice.
Trailer after the break.
You might also like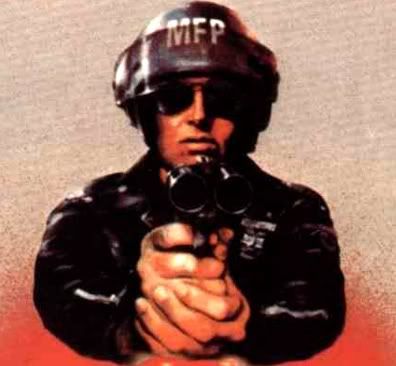 agentorange (13 years ago) Reply

This is a fantastic indie thriller. Like QE said, atypical in how it plays out.

Keep an eye on it folks.

E3-LON (13 years ago) Reply

looks good. scary stuff. when's it out?

George Bailey (13 years ago) Reply

Can't wait to see this, looks fantastic! Definitely one to watch.

emobadger (13 years ago) Reply

I saw this last year, it was okay. Were some annoying elements to it as there are to most films of this type. It wasn't anything special but it did get a bit tense at times, had a couple of funny moments and a killer ending.

Leave a comment