Latest news
quietearth
[Celluloid 02.19.09]
movie
news
scifi
Admittedly when I first found out about this film a while ago, I thought it sounded completely stupid.. but after hearing it's "time travel meets shaun of the dead" (of course without the zombies) and watching the trailer, I'm sold. It even has some money post apocalyptic shots with huge killer ants.
Chris O'Dowd, Marc Wootton, Dean Lennox Kelly star as three ordinary blokes who may hold the fate of the entire world in their hands when they discover a rift in the space-time continuum in the gents' of their local pub.
I know that sounds lame, so just watch the trailer after the break. via
filmstalker
Go here
to see the trailer.
You might also like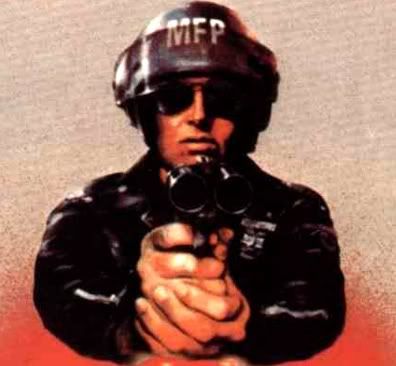 agentorange (13 years ago) Reply

Time travel makes for great humor. Always has. This looks SO FUNNY!

Cyberhal (13 years ago) Reply

looks like a right laff. anyone know when it's out?

Richard Brunton (13 years ago) Reply

Thanks for the reference QE, much appreciated.

Yeah, I thought the same thing too, and even got a little bit of friendly flak about it from some of those behind the film. However the trailer has totally turned things around for me and I'm really keen on seeing it.

Of course I don't think having Anna Faris up front is quite the right thing to do, but the rest of it looks great.

Anonymous (13 years ago) Reply

looks pretty cool, but.... Trailers, man. They lie.

Anonymous (13 years ago) Reply

Lionsgate have just announced the UK release date is 24 April 2009

Jason (13 years ago) Reply

Thatnks so much for posting this. I'm a big fan of O'Dowd thanks to his role in British sitcom The IT Crowd, and the geeky dissection of time travel looks hilarious. I won't hold my breath for a US theatrical release, but that's what multi-region DVD players are for. Can't wait.

chrisp (13 years ago) Reply

I've seen the film and it is great fun and very British, with three blokes sitting in a pub talking about sci-fi. Although it is primarily a comedy it does take the time travel aspect very seriously, especially all the paradoxes involved. It will naturally be compared with Shaun of the Dead because it is a Brit genre comedy, but it is very much its own film.
Full review coming on www.sci-fi-london.com closer to release date.

Anonymous (13 years ago) Reply

'This video is no longer available due to a copyright claim by Lionsgate Films UK ."

So, I guess Lionsgate would rather protect copyright than promote their movie. Baffling.

S (13 years ago) Reply

here's a working one;
http://io9.com/5155509/potentially-the-greatest-time-travel-movie-of-all-time
looks a bit too teen-comedyish for my primer-adjusted timetravel sensibilities

Anonymous (13 years ago) Reply

for more info/photos on FAQATT etc see Marc Wootton's (Toby in FAQATT) official website and blog www.foolingnobody.com

Leave a comment