Latest news
quietearth
[Celluloid 02.22.09]
movie
news
scifi
thriller
mystery
While none of us wanted a sequel to the massive cult hit Donnie Darko, Hollywood decided otherwise, and even though we may not be looking forward to it, I along with many others are still going to watch it. The trailer may look like a whos who of pretty people, but it's not THAT bad, so take a gander. S. Darko is headed straight to DVD on April 28th.
This next chapter of the Darko saga picks up with Samantha, Donnie's younger sister, who, in the wake of his death, has found herself at 17 with a broken family, mired in feelings of insignificance, and with no aspirations for the future. The archetypal character study and genre mixing of Donnie Darko is reprised, but with a fresh spin on the roles within the Tangent Universe that warrants the telling of this darker, more jaded tale of tragedy, second chances, sacrifice and rebirth.
Watch the trailer on the official website
.
You might also like
Anonymous (13 years ago) Reply

I just threw up in my mouth a little bit.

Dan (13 years ago) Reply

What's this about evil? Other than it looked okay I guess...it's just that the first one was so awesomely paradoxical that I wonder why there's a sequal at all. Did it HAVE to have darko in the title? "The darker it gets" Hmm, sounds cheesy. Le sigh.

jart (13 years ago) Reply

It's all about the girl.

Everybody's walking around with their big translucent schlongs hanging out.

And yes, we now have evil, the oldest cliche in the world.

It's gonna suck like ass jerky.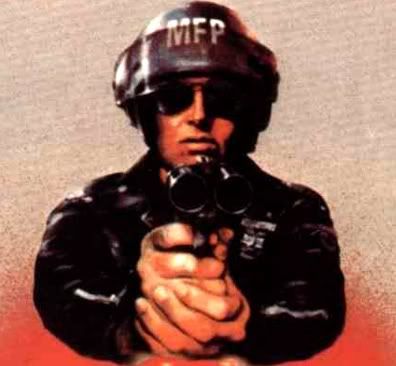 agentorange (13 years ago) Reply

It's actually got a pretty good cast. Daveigh Chase from "Big Love" and Ed Westwick from "Son of Ranbow" and "Gossip Girl" I like.

The tone of the film seems right, but they shouldn't have changed the setting from suburbia to the desert.

Anglebender (13 years ago) Reply

A sequel to Donnie Darko? How about a sequel to Memento, because I didn't get it ;>

Cyberhal (13 years ago) Reply

are those the meteorites from Before the Fall?

sonaboy (13 years ago) Reply

god, that was fucking ridiculous. here's the only outcome this is going to provide:
people who were too stupid or vapid to examine the underlying themes in DD, are now going to use this movie to say that they finally "get it."
why don't they just remove the liquid tunnel FX and the title and just call this something more appropriate...like The Butterfly Effect 3...ugh.

Axel (13 years ago) Reply

Wow wtf and it's not even directed by Richard Kelly, he must be shitting himself that hollywood is throwing all this bullshit at him

Anonymous (13 years ago) Reply

but has anyone... ANYONE seen it?
and what are you really expecting. DD was a good enough teen movie. Watch it again, it really is not that great a film. As for a sequel, well in the climate of cash - why not.

Leave a comment