Latest news
quietearth
[Celluloid 03.19.09]
movie
news
horror
This would be so much cooler if it was actually based on a real event, but as far as I can tell it's complete fiction. The story centers on an entire town disappearing, and what was found much, much later. The film is currently in pre-production, but we have a concept piece (which they call a trailer) and I'm hoping this will be as good as it sounds. If it's a Blair Witch redux, count me out.
One Morning in New England, 1940, the entire population of Friar New Hampshire - 572 people - walked together up a winding mountain trail and into the wilderness. They left behind their clothes, their money, all of their essentials. Even their dogs were abandoned, tied to posts and left to starve. No One knows why. A search party dispatched by the U.S. Army eventually discovered the remains of nearly 300 of Friar's evacuees. Many had frozen to death. Others were cruelly and mysteriously slaughtered. The bodies of the remaining citizens are still unaccounted for. Over the years, a quiet cover-up operation managed to weave the story of Friar into the stuff of legends and backwoods fairy tales. The town has slowly repopulated, but the vast wilderness is mostly untracked, with the northern-most stretches off limits to local hunters and loggers. In 2008, the coordinates for the "YELLOWBRICKROAD" trail head were declassified. The first official expedition into a dark and twisted wilderness will attempt to solve the mystery of the lost citizens of Friar...and reach the end of the trail.
Concept piece after the break.
You might also like
bad dog (12 years ago) Reply

Great concept.

You're right, though: Dear God, please don't let this be a Blair Witch redux.

Bamph (12 years ago) Reply

This looks AWESOME!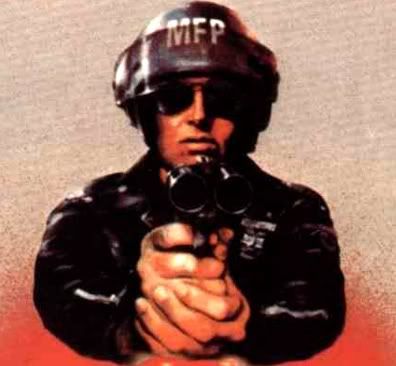 agentorange (12 years ago) Reply

That was hella creepy.

Dap (12 years ago) Reply

I've heard of towns disappearing like this

sonaboy (12 years ago) Reply

this has a great setup, but all the trendy After Effects filters and shaky cam stuff makes me think it'll be mostly style over substance.
I'm hoping for something more like a Donner Party redux, with a bit of Jonestown thrown in - spiritual emptiness culminating in a ritual slaughter. fingers crossed...

Rock (12 years ago) Reply

This is being filmed in the upcoming months. The crew is supposed to be staying down the street from my Vacation House in NH...if this ends up being 3/4 as good as the description on IMDB I will be psyched.

Anonymous (11 years ago) Reply

From inside this project, I can tell you that the actual film will be dry as a bone. Think The Shining or Deliverance before Blair Witch.

Anonymous (11 years ago) Reply

psyched to see this pan out. Hope it delivers. I have creepy feeling that it will.

Amy (11 years ago) Reply

This lookas freaking cool! Blair witch doesn't have anything on this. Actually, she's jealous her movie isn't as cool as this will be.

CTisHunted (10 years ago) Reply

they should make a movie based of this town in Connecticut http://www.ghostvillage.com/legends/dudleytown.shtml not to far from where my parent live and I grew up.

Anonymous (9 years ago) Reply

Dear God please let this be a Blair Witch redux.

Conser (9 years ago) Reply

Actually there have been towns who's population have disappeared overnight. One example, while not a town, is the colony of Roanoke. Another is a town in Alaska that I can't remember for the life of me.

RON DIBERTO (9 years ago) Reply

This story is based on a real event. But not from this century. You need to look up
Roanoke Colony. The only trace that the colony even existed is a sign. look it up.

Leave a comment