Latest news
quietearth
[Celluloid 04.03.09]
post apocalyptic
movie
news
We've been following this one pretty closely (
here
and
here
) and now after seeing footage I can say this one definitely has the tone of
The Noah
which I didn't particularly care for. There's a hint of Shakespeare and the photography just seems off, but I'm still looking forward to it and hope it's good. There's not many last dude on earth films, there's always somebody else.
Straw Man is the harrowing tale of one man, a lone soul in an empty world. To combat the loneliness of isolation he surrounds himself with people made out of straw, hand-crafted and moulded from faded memories of friends and family. They offer little in the way of company yet they hold insanity at bay. This Lone Man is a contradiction, his rambling thoughts battling against his need for structure and routine. In his quest for normality he spends each day teaching pupils, reading to them from the classics as they stare back at him with blank, featureless faces. But when the line between reality and fantasy is blurred by madness his ordered life is sent into a downward spiral.

Why do the straw people stare at him with blind judgement?
What are the children trying to tell him?
Who is the beautiful woman... ...and does she offer salvation?
Trailer after the break. What do you think?
You might also like
Anonymous (13 years ago) Reply

Anything happens in this film at all? Looks more like theater play, not cinema.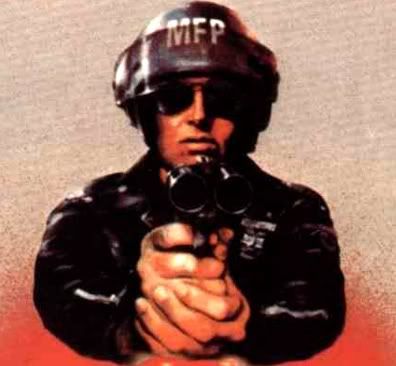 agentorange (13 years ago) Reply

I think it looks thoughtful and poetic. Being the last person on earth is bound to drive you a little bonkers I think, though I don't know if anyone would be running around speaking in Shakespearean dialect.

Should be interesting.

JackCrow (13 years ago) Reply

If we look closer we will see a lot happening, to a man who is alone, a metaphorical play with the alienation of people in todays society, even with others around.

Good one, expecting it eagerly.

Anonymous (13 years ago) Reply

I think it looks fabulous, I can tell it will be a slow moving character study that might actually prove challenging and rewarding

terrancej (13 years ago) Reply

you're quite clearly mad for thinking the photography is "off" this looks brilliant for a low-budget film! i'm looking forward to this for sure! and just where are you getting these Shakespeare ideas from??? because of the skull?? c'mon people think outside the box for once

Anonymous (13 years ago) Reply

Fucking Hell! THATS a trailer!!

Leave a comment