Latest news
quietearth
[Celluloid 04.22.09]
movie
news
horror
Christmas horror seems to be real popular lately, and what an underexploited genre. Let's take this film out of the Netherlands called
Sint
which is currently in development.
Saint Nicholas is not the good-hearted children's friend as people think he is. In reality he is a cruel bloodthirsty bishop who, whenever there's a full moon on December 5, will try to slaughter as many children as possible.
He just keeps coming back! We've got moodboards (concept art) which look quite stunning and a very lengthy synopsis. Dick Maas will be directing and I can't wait for this one!
Spoilers below!
St. Niklas, a bishop fallen out of grace, travels in the middle ages with his gang of robbers and thieves through the countryside, raping, plundering and killing. When villagers take the law into their own hands and murder the bloodthirsty bishop and his thugs by setting the ship on which they travel ablaze, Niklas vows revenge.

Now every time there is a full moon on december 5, the date he died, something that on average takes place every 36 years, St. Niklas and his helpers will rise from the dead and take revenge in a horrible way.

The story takes place in Amsterdam, Holland, on a misty and snowy december night. Frank, a nice boy of 17, is, together with some friends, confronted on that dreadful night, by Niklas and his helpers. He is the only one who manages to escape death. All of his friends are murdered. The police doesn't believe his story and arrest him as the main suspect.

When Frank is driven to prison, the police car gets involved in a chase with Niklas, who tries to escape on his fiery white horse over the roofs of the Amsterdam canal houses. Frank manages to escape from the police and Niklas, and teams up with Goert, a suspended detective.

Goert was suspended because he had unraveled the Niklas mystery and had warned that he would strike again this year. No one of course believed him and everyone thought he was going crazy. Frank and Goert team up to confront Niklas. In Goert's mind there is only one solution to get rid of Niklas: Blowing up his boat that must be moored in a remote part of the Amsterdam Harbor...
Concept art after the break.
You might also like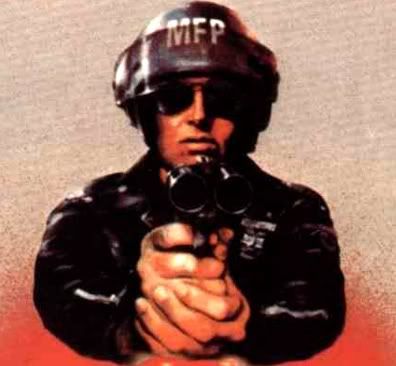 agentorange (14 years ago) Reply

That looks rad! Great artwork. Hope this gets made.

Anonymous (14 years ago) Reply

Just what we need - more anti-Christian cinema. I wonder when we'll be getting that Ramadan horror flick....

Anonymous (14 years ago) Reply

I agree with Anonymous.

Jonas (14 years ago) Reply

Good thing though that most christians are still sensible enough to not riot and murder as soon as someone uses or criticizes parts of their mythology.

Santa Claus (14 years ago) Reply

Too bad about SINT. To discover a bit about exactly what Santa really does for vulnerable children in dire circumstances, visit TheSantaClausFoundation dot org.

Anonymous (14 years ago) Reply

To all the people concerned about this "anti-christian" cinema, Santa Claus' roots are traced back to various Germanic pagan gods and traditions.

It is pretty much accepted that Christ was actually born in March and that the reason we celebrate his birthday in December is to correspond to various pagan winter solstice celebrations.

So, don't worry your pretty head, everything will be fine :)

Phoghat (14 years ago) Reply

Santa Claus is about as Christian as a Druid might be. Different mythologies in different cultures (Poland had a man that didn't dispense presents but coal only to bad children for example) were all molded together as one myth, originally a skinny old man. He became the jolly fat man only in the 19th century.

Rob (14 years ago) Reply

The fact that people are referring to this film as "anti-Christian" just shows how little they understand their own religion. If you look at the history of Santa Claus (also known as Sinter Klaas, and half a dozen other names) it goes back into pagan traditions that pre-date the rise of Christianity in Europe. He may be the modern symbol of Christmas but his link to the actual Christian faith is tenuous at best. If it was a film about an evil zombie Jesus, you'd have something to complain about.

Bob Doto (14 years ago) Reply

Wait, I thought Santa WAS Jesus. WTF?! Jesus died on the cross and then resurrected to bring all the good boys and girls gifts. What's going on here?

Rob (14 years ago) Reply

Has to be said: If you take out the St Nick gimmick, then this film is treading a pretty well-worn path. A person is accused (rightly or otherwise) of heinous crimes and killed by the townsfolk, only to rise from the grave years later and wreak bloody vengeance on their descendants. Pretty much the same plot behind A Nightmare on Elm Street, Candyman, Darkness Falls and lord knows how many others.

Anonymous (14 years ago) Reply

Actually people, Sinterklaas is not the same as the American version of Sint clause. Sinterklaas was a bishop that was born in Turkey and was well known for the fact that he would help out orphans. This is something else than the made up coca cola santa clause or any other figure

Leave a comment