Latest news
quietearth
[Celluloid 05.15.09]
movie
news
drama
Ugh. Ugh. Yes, my first and second words. Ballard is hands down my favorite author and I don't want any adaptations sullied by big budget Hollywood crap. Don't get me wrong, I like Jackson, but any Ballard crossover deserves a more.. independent spirit.
Here's the logline:
A psychiatric adviser to the police helps unravel a heinous crime: the murder of the adults in a suburban community, and the disappearance of their children.
and a better book description:
Thirty miles outside of London lies a suburban utopia called Pangbourne Village, an exclusive residential development in which all the houses are new, the security system is impeccable, parents are happy and children are provided with a nonstop roster of structured activity. But fans of Ballard's High Rise , in which he turned an apartment tower into a warring miniature city, will recognize his dim view of fabricated societies. Indeed, in his eerie new novella's first moments, Pangbourne's 32 adults are found murdered, and the complex's 13 children, all but one of them teenagers, have vanished. Written as a police psychiatrist's forensic diary, the story unfolds as an investigation that quickly points to the children themselves as culprits.
When you ask? It's listed in IMDB for 2011. That's all we got right now.
UPDATE
: Thanks to Brendon Connelly who pointed out a piece over at
Ballardian
(which our own Dr Nathan writes for), we also know the following:
Television and music video helmer Kevin Kerslake will direct in his feature film debut, from a script by David Leland ("Mona Lisa"). Shooting is set to begin this year in South Africa and at MMC Studios in Cologne, Germany.
You might also like
Ben Austwick (10 years ago) Reply

I'm speechless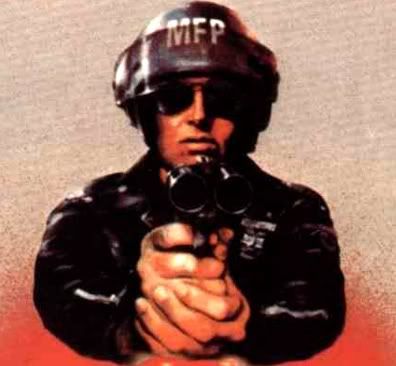 agentorange (10 years ago) Reply

This could be great! Good news for Ballard fan and hopefully one of many (hopefully good) films to come.

Brendon Connelly (10 years ago) Reply

Here's some more from the original announcement: http://www.ballardian.com/the-kid-stays-in-the-picture

Anonymous (10 years ago) Reply

Well, I don't like jackson. I think he's basically a bad industry joke at this point.

Anonymous (10 years ago) Reply

what'ch you tawlkin' 'bout mufukah!? Haha

Jezizup (9 years ago) Reply

I couldn't agree with you more...I got so excited when I saw this on imdb, but I hope it's not hollywood crap. Probly will be tho.

Leave a comment