Latest news
quietearth
[Celluloid 06.04.09]
zombies
movie
trailer
news
We reported on the
first teaser
which wasn't much of anything back in February and reportedly the film is finally in production now.
Is there a synopsis for this thing yet or is it still under wraps?
Now for the piss-our-readers-off opinion of the day.. I liked Quarantine better.
UPDATE:
Three clips from the film have now appeared online. You can find them, and the stellar teaser, after the break.
After the break.
Teaser 2:
Clip 1:
Clip 2:
Clip 3
You might also like
DarkBattM14 (11 years ago) Reply

Hey... Hey Hey... maybe because I'm latinamerican... but REC was a lot better... A LOT!!!

Anonymous (11 years ago) Reply

'quarantine' better than [rec]? no way! here's my article on the subject:

http://www.airlockalpha.com/news425732.html?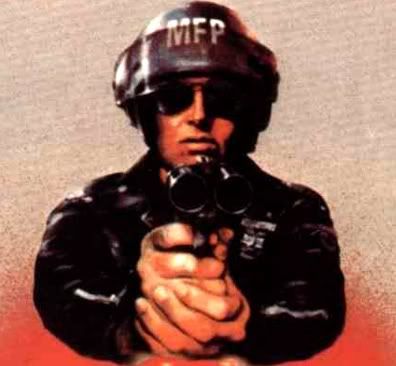 agentorange (11 years ago) Reply

Wow, I LOVED that teaser. Ok, a little first person shootery but still pretty amazing.

Now on the Rec versus Quarantine debate; I preferred the Spanish actress.

bad dog (11 years ago) Reply

Dude ... REC is HUGELY better than Quarantine. (Although Quarantine has a better title.)

rek (11 years ago) Reply

I haven't seen either and probably never will, but this teaser was excellent. It's 100% First Person Shooter, in all the right ways.

DarkBattM14 (11 years ago) Reply

Quote by bad dog: (Although Quarantine has a better title.)
...Yep only a better title.... no more... jeje :P :D

JackCrow (11 years ago) Reply

REC is the original, everything else is fake.
Great trailer, quarantine and all other "american" interpretations of the movies from the original in generally and entirety suck.

Can't wait for the final second part, I see the fireman "lives".

Pat (11 years ago) Reply

nice tape capturing mess up effect towards the end. had me freaked out tht my PC was goin titts up agen. hopefully its all 1st person. id love tht. oh and if it is, pls let it be some kind of tiny camera in the film because I HATE idiots running around with a handheld camera in horror films, just doesnt make any sense.

bad dog (11 years ago) Reply

Forgot to mention that this movie looks awesome. Can't wait!

Ben Austwick (11 years ago) Reply

Great film Rec, but I don't think it brought much new to the zombie genre until it got near the end. I'd have liked to see them run with the weird goings on at the end rather than churn out more generic zombie blasting.

This trailer leaves me feeling a little meh. What's the point of this sort of stuff when you can be playing Left 4 Dead?

I suppose you can't tell much from a trailer though...

projectcyclops (11 years ago) Reply

Perhaps it depends which one you watch first. I loved Rec but on viewing Quarantine it was just like watching the same film again, so I couldn't be bothered and switched off after 20 minutes... Anyway, very much looking forward to this.

Cyclops76 (11 years ago) Reply

Rec is way better than Quarantine...Quarantine's ending is plain stupid and the explanation they give of the outbreak takes away what made the original scary...first the T3 is better than Salvation thing and now this? c'mon guys...

themasha (11 years ago) Reply

i saw quarantine.. not REC.. i cant wait to see this movie.. the production is really nice.. and it looks so realistic...

Leave a comment