Latest news
quietearth
[Celluloid 06.18.09]
post apocalyptic
zombies
movie
trailer
news
I'm a bit wary of the humor in this but I love Woody Harrelson's character. Honestly, I can't figure out whether this is just a poorly cut trailer or this flick is going to be a bust, I hope the former and not the latter. It also stars Jesse Eisenberg, Bill Murray, Abigail Breslin, Emma Stone and Amber Heard.
In the horror comedy Zombieland focuses on two men who have found a way to survive a world overrun by zombies. Columbus (Jesse Eisenberg) is a big wuss -- but when you're afraid of being eaten by zombies, fear can keep you alive. Tallahassee (Woody Harrelson) is an AK-totin', zombie-slayin' badass whose single determination is to get the last Twinkie on earth. As they join forces with Wichita (Emma Stone) and Little Rock (Abigail Breslin), who have also found unique ways to survive the zombie mayhem, they will have to determine which is worse: relying on each other or succumbing to the zombies.
Trailer after the break or in
HD here
.
You might also like
badfrog (11 years ago) Reply

that looks friggin great! can't wait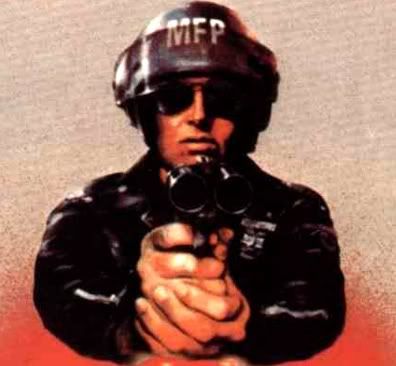 agentorange (11 years ago) Reply

Awesome. Just, awesome.

I must say, I'm loving the Hitchhiker's Guide to the Galaxy style narration.

Sunolet (11 years ago) Reply

I must say i'm in love dawn of the dead meets shoot em up in terms of action and i can't beging to describe how the jokes are going

Jonas (11 years ago) Reply

This wasn't at all how I expected (or hoped) it would be. But it looks awesome!

I wonder if the movie uses the same hitchhikers guide to the galaxy narration or if it's just in the trailer.

Anonymous (11 years ago) Reply

Squee!

Leave a comment