Latest news
Christopher Webster
[Celluloid 06.26.09]
post apocalyptic
movie
news
poster
It's so good to finally see momentum coming from this project. Directed years ago by Àlex Pastor and David Pastor, Paramount Vantage has been sitting on the film but have finally slated release for this September. Why they shelved it for so long we don't know. Maybe it's just not that great, but then why not just give it a straight-to-DVD release like so many other films? I can only assume they were waiting for the right time to strike, and with Chris Pine skyrocketing to success from his turn as captain Kirk in Abrams'
Star Trek
the timing seems perfect.
Synopsis:
A deadly virus has spread across the globe. Contagion is everywhere, no one is safe, and no one can be trusted. Four young attractive people race through the back roads of the American West to the pounding beat of a vacation soundtrack. Their aim is to retreat to a secluded Utopian beach in the Gulf of Mexico, where they could peacefully wait out the pandemic and survive the apocalyptic disease. Carriers follow their getaway through a surreal and dangerous world where laws and rules no longer apply.

Their plans take a grim turn when their car breaks down on an isolated road, starting a chain of events that will seal the fate of each of them in an inexorable and horrifying voyage of hell through a western landscape populated by only the hideous dead or the twisted living. Their desperate retreat south turns into a deadly battle against infected children, homicidal doctors, crazed survivalists, rabid dogs, and finally, each other. The virus is the least of their problems as horrible choices must be made in the face of lost humanity.
Blairwitch.de
have the first look at the new one sheet and, while I like it, it's not nearly as effective as the original
promo art
.
Trailer and a whole bunch of stills (via
dvd-forum
have also appeared for the film so be sure and check them out after the break.
You might also like
brettlv5506 (13 years ago) Reply

There is a short film that is based off of a Stephen King story (can't remember the name of either) that sounds exactly like this. I mean exactly down to the plague, roadtrip, beachhouse, everything.

Dan Sachar (13 years ago) Reply

"..Four young attractive people.."
Yeah, that's important for the story huh? I gotta see it now!
I can't stand bad screenwriters.

Anonymous (13 years ago) Reply

I remember now it was called Night Surf. That is what this is ripping off.

Andreas (13 years ago) Reply

There is already a trailer http://www.youtube.com/watch?v=9QCeWa2PwUo

and the movie is played at Fantasy Filmfest in Germany www.fantasyfilmfest.com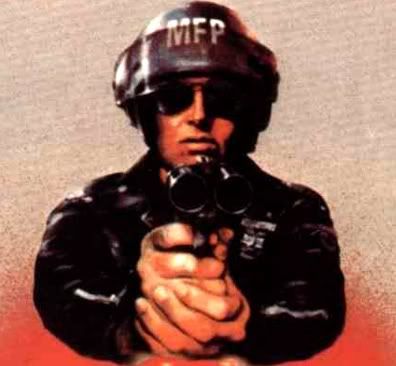 agentorange (13 years ago) Reply

Yep, we were actually the very first site to report on the trailer. It looks great!

Leave a comment