Latest news
quietearth
[Celluloid 07.02.09]
movie
trailer
news
scifi
adventure
Back in
September of 08
we brought you footage from a fantastic looking scifi flick coming out of Mexico called 2033, but unfortunately, shortly after, the footage which was added by the production company was pulled. From my understanding this was due to political pressure as the film is loosely based on some of Mexico's history and the government really didn't like that.. but I need to find that in my email so I can detail this further for you.
In a fusion of Gattaca style and Inhabited Island storyline which is heavy on the futuristic tech, director Francisco Laresgoiti and writer Jordi Mariscal, bring us a vision unlike anything we've seen out of Mexico. This is the first feature for both director and writer, and it looks utterly stunning. While there's no flying cars that I can see, 2033 presents a vision of a clean, utopian future. Folks, you don't want to miss this.
It is the year 2033 in Mexico City, now called Villaparaiso (Paradise City). A military government controls society, taking from it its religious faith and freedom of expression. The main characters are Pablo and a "hidden" priest, known as Father Miguel, who transforms his life. Pablo leaves his privileged life in order to aid the helpless and destroy this system which controls the people through an addictive drink called "Pactia." In this way he fights alongside the "believers' to bring down the regime. Along the way, he meets Lucía, who gives him a reason to live.
Trailers after the break, the first has English subs.
You might also like
Anonymous (13 years ago) Reply

not bad at all..shades of Logans Run and THX...what's with the bloody awful music though!!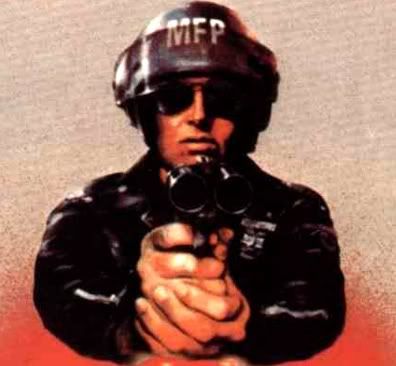 agentorange (13 years ago) Reply

Man, it feels like we've been waiting on this one for years. Very Gattaca meets THX indeed.

First Sleep Dealer and now this? Keep 'em coming Mexico!

freet (13 years ago) Reply

this looks great.
where can i see sleep dealer??

Anonymous (13 years ago) Reply

It looks very much like Code 46 to me.

Chisco (13 years ago) Reply

Thanks for the update Don!
Thanks for your comments, we´re finishing the ORIGINAL score, USA: you will pretty much like this film!
greetings
chisco (2033 director)

Alejandro24 (13 years ago) Reply

Finally something different from the mexican cinema (not like recent movies like Rudo y Cursi or Cómo no te voy a querer).
That will be a great movie and a revolution on the mexican cinema.

Another thing, 2033 is not the first mexican sci-fi film: the first movie of this genre is México 2000 (but is not drama, is comedy).

in2u (13 years ago) Reply

I can't wait to see it!

Anonymous (13 years ago) Reply

equilibrium, 1984, over and over, looks ok just not original

EatNopales (11 years ago) Reply

No mames Alejandro24.. you must be a kid.. Mexico 2000 the first Mex sci fi? Mexican cinema was producing Scifi back in the 1940's... I guess you haven't seen all the classic Luchador vs. Alien movies from the 1960's? (Think Austin Powers aesthetics)

Leave a comment