Latest news
quietearth
[Celluloid 07.06.09]
movie
news
scifi
horror
comedy
thriller
Don't even complain this isn't QE's style.. you know you're going to see it just like the rest of us. From writer Diablo Cody and director Karyn Kusama (Girl Fight, Aeon Flux) comes one wickedly sexy looking horror almost reminiscent of the good old 80's which stars Megan Fox (like you didn't know).
Demon possession, devilish cheerleaders, and Satanic rock stars are all on the chopping block with this horror comedy from the production team behind Juno. Screenwriter Diablo Cody provides the script, with producing duties handled by Jason Reitman and Dan Dubiecki. The story centers on an impish high-school student (Amanda Seyfried) who has to protect her town against her best friend, Jennifer (Megan Fox), who after being bedeviled by an evil rock band, develops a taste for human flesh.
Trailer after the break. via
STYD
You might also like
Anonymous (13 years ago) Reply

ummm, true blood?
when i first saw that poster i thought this was going to be a parody movie because of the poster. i mean, i've seen some similar things before but, wow its like exactly the same.

rek (13 years ago) Reply

Megan Fox looks like a cheap whore.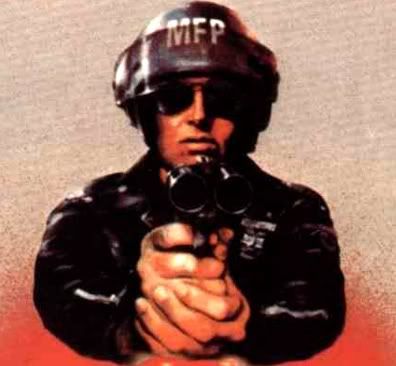 agentorange (13 years ago) Reply

I'm definitely NOT a Megan Fox fan, but it looks like Kusama and Cody have done something fresh with a hackneyed old horror trope.

Hope it's as decent as the trailer.

rcdude (13 years ago) Reply

Megan Fox is too old to be in high school...

Anonymous (13 years ago) Reply

Please, this is not IMDb board, there is no need to express your hate for Megan Fox. How about saying something about the movie instead, ha?

For me it looks good, I don't quite sure about the humor. I haven' seen Juno yet, but it seems that the dialogs constructed from only punchlines.

Ben Austwick (13 years ago) Reply

This does look like fun, but doesn't it just make you want to watch Buffy again instead?

Cletus (13 years ago) Reply

Yawn...

Anonymous (13 years ago) Reply

yeah, blatantly stealing the true blood poster artwork seems odd for a hollywood production. did they run out of money or what?

Pat (13 years ago) Reply

i hate megan fox, with a passion.
nevertheless, i want to see this.

Anna (13 years ago) Reply

This poster is a blatant ripoff of the True Blood (tv series, on HBO I think) one.

Leave a comment