Latest news
quietearth
[Celluloid 08.07.09]
post apocalyptic
movie
news
scifi
action
We've been sitting on this one for a while now but it's time to give our readers a taste of what's to come. From the directors of
The Zombie Diaries
(
review
), our friend Michael Bartlett and Kevin Gates, comes a post apocalyptic time travel film which we've got the script for, and we can tell you, should be incredible. Admittedly we're biased as Michael is one cool cat and we've been in on the project for a while, but as we have the script we can honestly tell you we're greatly looking forward to another film from the Bartlett/Gates duo. Unfortunately we're not allowed to give anything away at this point, but you can see the poster to the right and we'll have an exclusive script review coming soon!
Embiggened poster after the break.
You might also like
Anonymous (12 years ago) Reply

Well, if this poster has as much to do with this movie as the cover for the Zombie Diaries had to do with that movie, I won't hold my breath. That and I just REALLY didn't like Zombie Diaries at all.

Fabulous Franc (12 years ago) Reply

I had the same concerns, but this film has been making is way around on the grapevine for a while - it has a decent budget and the poster apparently reflects the script. I hate misleading posters. Looking forward to the Quiet Earth script review to find out if the poster does indeed match the film.

zombiegrrl (12 years ago) Reply

Sweeeeeeeeeeeeet. Loved TZD. This looks insane.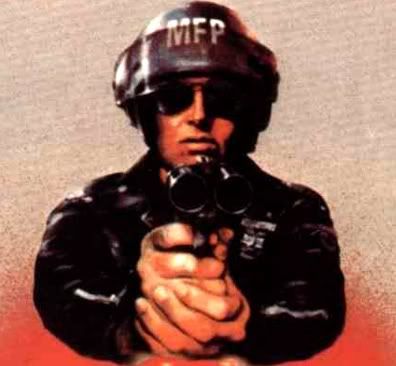 agentorange (12 years ago) Reply

Having read the script I can tell you that this art fully relates. Also, unlike the Weinstein Zombie Diaries dvd cover, Bartlett has had a huge hand in conceptualizing this artwork.

Review to come soon folks.

Stephen Wood (12 years ago) Reply

Zombie diary, was perhaps the worst film of the genre I have ever seen, poor script, poor location and terrible acting. I hope he pulls his finger out and does better this time.

Jonas (12 years ago) Reply

Zombie Diaries was a fantastic film for its budget. I'm really excited what these guys can do with more money. And post-apocalyptic and time travel stories are always appreciated.

entizari (12 years ago) Reply

Zombie Diaries wasn't a perfect film, and some of the problems were definitely budget related. plus it involved my current genre film pet hate of having characters continuing to film their situation under ridiculous circumstances for completely flimsy reasons.
That aside, I thought it was generally a well made, enjoyable film, one of the few recent films I've discovered through this site & Twitch that have actually had a lasting impact - far better than Romero's Diary of the Dead too. Not to mention the wonderfully nihilistic ending

Very much looking forward to more from these two

Allen (12 years ago) Reply

I'm really hoping this one won't end up being shot in the same perspective as Zombie Diaries. That got old pretty fast after it showed up in "Diary of the Dead", "Cloverfield", and "Quarantine" as well.

Leave a comment