Latest news
quietearth
[Celluloid 08.11.09]
post apocalyptic
movie
news
From the director of
Salvage
comes a new film billed as an "ecological horror about a drought in the UK".
The Drought
is still in development but had pre-sales at the Cannes Market and will also be at AFM where there will be concept art, a trailer and casting announced according to Lawrence.
Synopsis:
Mal and Joanne Stead have it all. A lovely home. Great careers. Two beautiful kids, Shaun and Neve. But when Shaun's snatched from their garden one day, the couple's lives changes forever. Fifteen years on, global drought has scorched the earth. The UK is unrecognizable. Billions are dead. The UK has evacuated, but the Steads have remained in their home, hopeful one day Shaun may return. Now running on empty and, with Neve's life hanging in the balance, Mal and Joanne decide they must venture out to find water. But with lawless scavengers now patrolling the highways and a greater evil closing in at night, the Steads face an almighty task to make it home.
You can check out a higher-res version of the poster after the break.
Is it just me or does that font look familiar?
You might also like
witchman (13 years ago) Reply

At least the drought approach is a fairly new approach to the whole end of world scenerio. Synopsis kinda reminds me of the book Last Light. Yes, i'm sure you both pulled the font from the same site;-) As did Generation Kill.

Avery (13 years ago) Reply

It sounds pretty awesome! I look forward to more!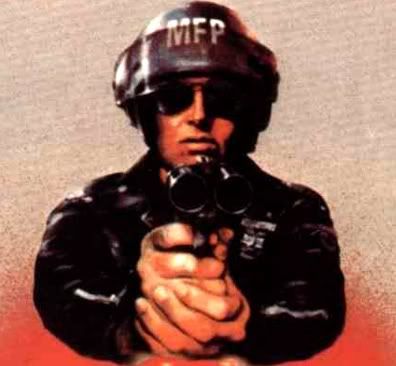 agentorange (13 years ago) Reply

Great concept art. The cracked earth reminds me of this gem for "No Blade of Grass"

http://tinyurl.com/mcz8fz

James (13 years ago) Reply

Huh, I was just looking all over the place for a DVD or VHS of "No Blade of Grass." I read the book a couple weeks ago, and only today discovered that it had been made into a movie... but apparently, never released on VHS or DVD, at least that I can find. Anyone know different?

quietearth (13 years ago) Reply

I got a copy of No Blade of Grass off ebay.

geezah (13 years ago) Reply

the typeface resembles the title for the MIRACLE of ST ANNA poster

http://www.firstshowing.net/img/Miracle-StAnna-poster-big.jpg

if thats what you meant?

soma (13 years ago) Reply

the type face is the same one I used for teh quiet earth site.

ambulance shotgun!!

Pat (13 years ago) Reply

hhahahah XD oh well... i m so much into the news on this site..i dont hav time to check the banner everyday^^

Anonymous (12 years ago) Reply

i have had the chanxce to see the promo trailer to this after it went to canne. the film looks amaxzing. it will be a huge blockbuster in 2011

Leave a comment