Latest news
Simon Read
[Celluloid 08.25.09]
post apocalyptic
movie
review
action
Year: 2009
Directors: Simone Bartesaghi & Neil Kinsella
Writers: Philip Kim
IMDB:
link
Trailer:
link
Review by: projectcyclops
Rating: 6.9 out of 10
Simone Bartesaghi and Neil Kinsella direct a furious, apocalyptic and darkly satirical action film, written by Philip Kim, and starring Jonathon Trent and Elizabeth Roberts. The film, set somewhere in a nightmare America where both oil and water are in incredibly short supply, is a pretty low-budget affair, but don't let that put you off, there's some dynamite ideas going on here.
Downstream begins with a montage of society collapsing; oil and clean water are running out, virtually all women are succumbing to a mysterious new form of cancer which may stem from GM crops, and the cities are no-go zones, as the populations spread out to the countryside for safety. It's a clear nod to the opening of the great Soylent Green, with the images flickering faster and faster, the newsreaders voices changing and blurring into one another, and it sets-up the story nicely. We then cut to a domestic scene where a kid is being taught mechanics by his scientist father, who's designing a car motor which will, "Run on anything." After the newly appointed local 'deputies' arrive to throw their clout around and harass the family, a fight breaks out and the kid is left an orphan. Fast forward fifteen years or so and our boy, Wes Keller (Trent), is all grown-up, thundering through the desert in his whinnying super-car with his pet dog, Lugosi, he searches desperately for the rumored city of Plutonium. It seems all the big corporations formed into one, just before the situation got uncontrollable, and they built a city that runs on cold-fusion, and where salvation may just be possible.
Throughout the first part of the film Wes meets various undesirables, eventually saving a young woman from rape in a shanty-town and hoisting her into his car against her will; so begins the fiery relationship between Wes and Sara, who travel about the wasteland looking for the city and fending off psychotic gangs, religious zealots and one of the most deranged bad-guys I've seen in a while, at least since I last watched Mad Max 2. 'Tobias' is a gang leader who drugs women and films himself torturing them in his 'castle' (more like a LARPers clan-hut really), and after a run-in with our heroes, he hunts them across the desert, becoming increasingly bat-shit crazy in his mission, which leads to a great show-down between him and Wes. Tobias is played by Jonno Roberts, who's clearly having a ball with the character, giving his all to convince us that he's completely insane, but still has the vestiges of control over his reality, unlike Edward, a religious nut played by Billy Drago (who else?). Edward is utterly out of his mind, and one terrific exchange, maybe the best in the whole film, has Tobias and Edward talking as Tobias's goons blast the hell out of Edward's camp. Ed is mumbling and screaming about gods and wrath, and Tobias just leans in to him and says, "Wow, you really are insane… you know, they say I'm mad. It's good to know that it could be worse. Goodbye." Pure gold ladies and gentlemen.
Unfortunately I need to add a disclaimer of sorts; the film isn't perfect, far from it. Some of the direction is a bit shaky (screenwriter Kim is credited as co-director, which adds-up to three directors… yeah, you heard) although conversely, some shots and fight scenes almost rival Hollywood levels of professionalism. The acting from lead Jonathon Trent is weak, compared to the strong performance from Robertson as Tobias. Trent's character is supposed to be a bad-ass, and he is, kicking-butt and taking names all the way, but when it comes to any exchange between him and Sara, the chemistry is painfully absent. While he's good at somersaults and karate kicks, he isn't as charismatic during dialogue that's key to us lending him sympathy. To be honest, I wasn't really rooting for him, but I was more for the film-makers, who are on a quest simply to entertain. Entertaining it is, the pace is good, and we don't hang around any one place for too long. There are some clever set-pieces too, most notably towards the end of the film when Wes and Sara stop off at a Twin Peaks-esque diner by the road and find that it's open and ready for business, with clean plates and a full menu, tidy rooms with fresh sheets and hot water. Something odd about that? The explanation is grizzly and gripping. Some of the themes in the film ring true, everyone, for instance, owns a gun; but there are hardly any bullets left this long after the breakdown, so they're a bit useless. There's also the meat vendor in one of the camps; "Where'd you get meat?" asks Wes, "You really wanna know?" he laughs.
Here at QuietEarth we're all about the apocalyptic madness, and it's basically served-up well in Downstream. A few stumbles and perhaps some learning curves here and there, but overall it gets a solid thumbs-up. How can I not dig a film that has someone point a gun at a photo of Dick Cheney on Time magazine and say, "Pow", only for said magazine to be ripped from the shelf and stomped on by a group of crazy street-punks? Hell, how can anyone not dig a film that gives us crazy street-punks? Oh, and Wes has a telepathic relationship with his dog, remind you of anything?
You might also like
Skinstripper (10 years ago) Reply

Sigh. Had to get political. The movie and the review. Oh well. I gave it a chance, I guess. Sometimes the little things turn people off hardcore, and when will filmmakers ever understand only get political in political films. Same goes for reviewers. "How could I not dig a film that has someone point a gun at a photo of Dick Cheney..." Again, sigh. Predictable, I guess. Cinematography and story look pretty good, that aside.

rek (10 years ago) Reply

Trailer: http://www.youtube.com/watch?v=o53KfWIHvV0

I haven't read the review to avoid spoilers.

Anonymous (10 years ago) Reply

I don't know why that would be seen as political? If someone had pointed a gun at any other famous figure photo...say Britney Spears. Would that be political? I think the problem isn't with just writers or filmmakers or reviewers, its with the end user. If the viewer or the reader decides to read something and make it political than anything can be perceived as political. It looks cool and I will reserve my comments until I've seen it.

Red (10 years ago) Reply

Skinstripper, you might want to lighten-up a little, it's a only a movie! (sigh)

Anonymous (10 years ago) Reply

Heh, yes, well, I have my opinion. I do agree, it is only a movie, and looks pretty good to me, as I said. I was also referring to the review itself. If it was a picture of Obama, I would be just as opinionated. It had to do with the nature of political expression in films and reviews that just alienate half their base.

rek (10 years ago) Reply

How/where/when did you see this? IMDB says it's still in production (completed).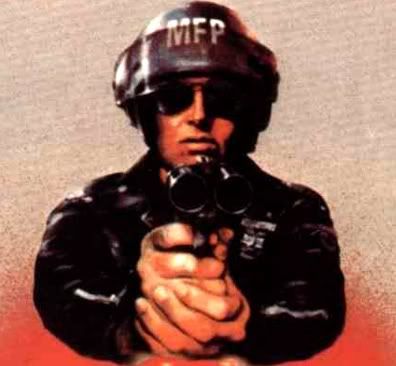 agentorange (10 years ago) Reply

Ah, we get a lot of films early- screeners sent to us and what not. As soon as we know what's up with distro on this we'll let everyone know.

Anonymous (10 years ago) Reply

Paid $11 to see this movie last night. Perhaps the worst movie I have ever seen. It was so bad I will probably never again speak to the person who invited me. It makes appreciate mediocre films. I did not know it was possible to make a film this bad. Everyone involved with this deserves a punch in the face.

dave (9 years ago) Reply

i liked this movie,i would give it a 6.5 on scale of 10. ive seen alot of negative reviews that i didnt think were fair.dont expect to see alot of hi tech special effects but the plot and actors held my interest throughout the movei.more than i can say about alot of big budget movies.i liked this slightly more than book of eli.

Leave a comment