Latest news
Christopher Webster
[Celluloid 08.31.09]
post apocalyptic
movie
news
scifi
horror
animation
comic
We just got word from the lads at Halo-8 Entertainment that they've secured the rights to create an illustrated film adaptation of "LOADED BIBLE: Jesus vs Vampires," a post-nuke horror comic book published by Image Comics and created by Tim Seeley (
HACK/SLASH
). The film will be directed by Matt Pizzolo (
Godkiller
) and producer by Emmy-winner Brian Giberson.
Says Seeley of working with Halo-8: "When I first discovered Halo-8 and their approach to entertainment, I knew I'd found a kindred spirit. They make the kinds of films they want, they don't answer to a major studio, and they know how to use technology and make it work for them. I'm pleased to have an off-kilter project like LOADED BIBLE find a home with these guys in their illustrated films line and I can't wait for film and comic fans alike to see it."
Synopsis:
LOADED BIBLE takes place after nuclear Holy War has decimated North America and left it populated by legions of vampires. When humanity's last stronghold New Vatican City is withering under the vampires' assault, the Church gives their people a hero by cloning Jesus Christ Himself... but all is not as it seems for the Test Tube Messiah as he's drawn into a web of betrayal, bloodshed, and seduction.
Halo-8 is planning a 2010 theatrical release for the illustrated film.
You might also like
Jonas (12 years ago) Reply

So what exactly is an illustrated film? Is that just another word for animated or is it more like they just animate the drawings from the comic or something?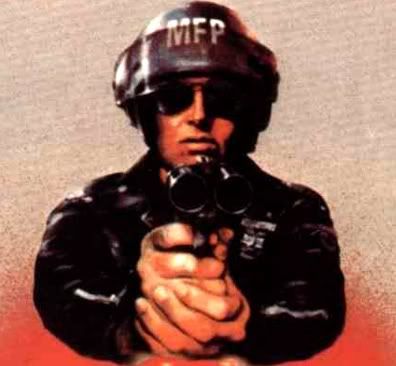 agentorange (12 years ago) Reply

@Jonas

This is what we're told:

""Illustrated films" are a new filmmaking format designed by Pizzolo and Giberson that mixes elements of anime, radio drama, video games, and motion comics. Utilizing the sequential artwork from the comic book, the "illustrated film" adds motion animation, 3D CGI, visual effects, elaborate sound design, music, and dramatic voice performances."

Does that help?

Jonas (12 years ago) Reply

Aha, what I thought, they're animating the comic art. Too bad as this movie could be pretty interesting as live-action movie.

Maybe Caviezel could play Jesus in this too? He can handle an action role as we've seen in outlander. :D

Leave a comment