Latest news
quietearth
[Celluloid 09.10.09]
movie
trailer
news
horror
noir
Update: This is not actually a double bill, both films are playing, but you have to pay for each one.
One of the hands down best films I've seen this year is getting a limited run this Halloween at at the Museum of Fine Arts in Boston. It will be playing with
American Movie
which it shares the same star with, Mark Borchardt, who plays an alcoholic caretaker in a soon-to-be demolished gothic apartment building with lots of the supernatural. The film combines an element of noir and horror and effortlessly switches between B&W and color with some truly beautiful cinematography. You can read my review
here
.
From the press release:
Not to be missed! The Museum of Fine Arts in Boston is hosting a limited engagement of THE HAGSTONE DEMON, a brand new supernatural horror feature starring Mark Borchardt (the irrepressible indie film auteur and subject of the 1999 documentary AMERICAN MOVIE) in a rare leading role. Borchardt resurfaces as Douglas Elmore, an alcoholic caretaker of a condemned apartment building infested with female demons and hairless cats. And for a double dose Borchardt mania, THE HAGSTONE DEMON will be double-billed with AMERICAN MOVIE Halloween weekend at MFA, with screenings October 30th and 31st. Additional screenings of THE HAGSTONE DEMON will take place on October 23rd and October 29th.
Buy tickets here
.
And here's the synopsis:
Douglas Elmore is an alcoholic writer and caretaker haunted by visions of his dead wife and pursued by supernatural forces bent on revenge for his past deeds. When tenants start turning up dead in the hallways and stairwells of his brownstone apartment building, Douglas suspects a strange but sexually alluring homeless prostitute named Karna who sleeps in his basement by day and prowls the empty city by night. But as the bodies pile up, Douglas is torn between his growing obsession with Karna and the threat of becoming a prime suspect in a murder investigation. Douglas must find the origin of the evil residing in the old Hagstone building before the secrets of his past return to destroy him.
Trailer after the break!
You might also like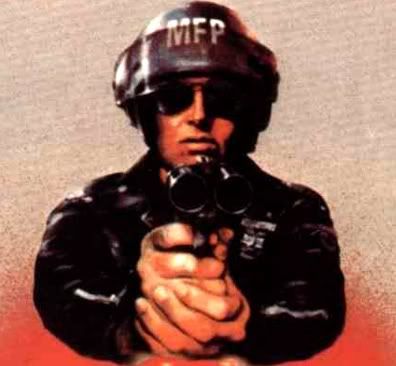 agentorange (12 years ago) Reply

Great new poster. Wish this was playing in my town.

Skinstripper (12 years ago) Reply

Awesome! I love Borchardt! And American Movie as well. These are the kind of leading men movies today need. I want to see real people, not plastic Barbie dolls. I'll be looking for it in L.A. Nicely done independent film.

Leave a comment