Latest news
quietearth
[Film Festival 09.10.09]
movie
trailer
news
experimental
[Update: Added a new video with 3 minutes of various clips.]
Utter madness from the man behind
Gummo
and
Mister Lonely
. This is the kind of weirdness I love, just like
Psychotropica
.
The description from the TIFF website:
Tired vocabulary like "enfant terrible" and "provocation" is a constant threat when writing about Harmony Korine and his films. Trash Humpers is no exception: creepy masks, low-grade torture, frequent public urination, senseless vandalism and the title, acted out on defenseless garbage cans, all have a confrontational panache about them to be sure. But the film is also full of poetry, dance, song and moments of aching poignancy.

Such is the dilemma with Korine and his remarkable career; for all the fireworks, there is an impressive coherence in the subject matter of his work. His four feature films all seek to shed light on a certain class of people: unique and bizarre individuals usually lumped under the heading of "subculture." Poor but not destitute, subject to state disinterest, anti-social and often violent, these are the contemporary equivalent of Brothers Grimm villains, the scary witches in America's woods. Vilified by the right and condescended to by the left, their official narrative is one of cliché and fake melodrama in Hollywood cinema. Korine reclaims them as individuals through the lens of an unironic but corrosive wit and a bracing sense of the macabre. They are like the denizens of an overly familiar cautionary tale, the post-apocalyptic now.
Trailer after the break. via
TIFFreviews
You might also like
Damob (12 years ago) Reply

"Aching poignancy?" Are you high? I've seen (or actually, been reluctantly convinced to watch by arty film school mates) Julien donkey boy etc. It never struck me as articulary good filmamking. It was just randonm, basically meaningless junk. His work has no agenda, which I could of course forgive if it was beautiful. But I don't find it so. And if anybody following me uses the term 'postmodern' (or some other deconstructionist garbage term) in their post, I shall be very upset. Korine knows simply that we are all profoundly worried about the underclass, and prepared to sit through any garbage that gives us the vauge cathartic feeling that we are somehow connected to their nightmare. He is an emotional huckster, and any such feeling is absolutley spurious.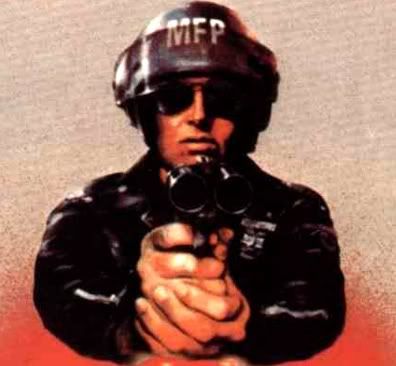 agentorange (12 years ago) Reply

Gummo's one of those films I've seen at least 4 or 5 times. Not because I "liked" it either, but because once you see it you can't shake it. It's truly a slice of sub-suburban Americana macabre (if that makes sense). I'm sure I'll not be able to tear myself away from Trash Humpers also.

Damob (12 years ago) Reply

Yeah, Well you could saythe same thing about 'two girls one cup.' Im sorry, I don't mean to sound rude or dismissive, but Horine just bugs me.

Anonymous (12 years ago) Reply

what a f***ing waste of time and energy

Anonymous (12 years ago) Reply

Gotta be honest... crap like this doesn't do much for your credibility as a reviewer or recommender of films, but then I've learned to take it with a grain of salt... and I'm only here for the post-apoc info anyways.

Anonymous (12 years ago) Reply

The phrase "we are all profoundly worried about the underclass" is almost as funny as these clips.

Damob (12 years ago) Reply

:-)

Gmince (12 years ago) Reply

Korine is a genius, just cause you don't understand his way of thinking doens't mean it's not good. Who cares if you don't like it, seriously, who are you anyway some kind of critic? It's refreshing to a twisted view on reality and capture it on film, so shut up.

firebrnd13 (12 years ago) Reply

Damob, your criticism of Korine is the best I've heard, but accepting that there is something about the American underclass that moves us in his films, it is more than just a circus that we force ourselves to watch out of twisted compassion. Unlike the Brothers Grimm, these people are not monsters from a horror film fueled by the devil, they are us, a product of our confused world. This is the devil's show. The actor is a product. They are garbage, we are garbage. We all still hold onto some beautiful, impossible dream- the kid in the bunny suit- but trapped in a ruined world, the result ends up being lost tape no one cares about. No one shows us our own sad state better than Harmony Korine.

MIke White (12 years ago) Reply

Please kill me before he makes another movie. How does this guy get money?

Leave a comment