Latest news
Christopher Webster
[Celluloid 09.11.09]
movie
trailer
news
horror
fantasy
Michael Basset himself told me that an English trailer for his over-due labor of love,
Solomon Kane
, would be dropping soon and he wasn't kidding. We brought you the
Russian trailer
premiere only yesterday and now here it is, one we can all understand. With any luck I'll stop reading comparisons to Wolfhound.
Synopsis:
The first part in a trilogy series, Solomon Kane is an epic adventure adapted from the classic pulp stories by Robert E. Howard, creator of "Conan the Barbarian." Solomon Kane (James Purefoy) is a 16th Century soldier who learns that his brutal and cruel actions have damned him. Determined to redeem himself, Kane swears to live a life of peace and goodness but is forced to fight once more when a dark power threatens the land.
Basset's Kane stars James Purefoy, Max von Sydow, Rachel Hurd-Wood, Jason Flemyng, Pete Postlethwaite and many other stellar UK actors.
Run, don't walk to the English Solomon Kane (via:
Dread Central
) trailer after the break.
You might also like
zenseeker (12 years ago) Reply

Looks like complete be crap...great FX...but still crap.

rcdude (12 years ago) Reply

Is this fantasy or more historical?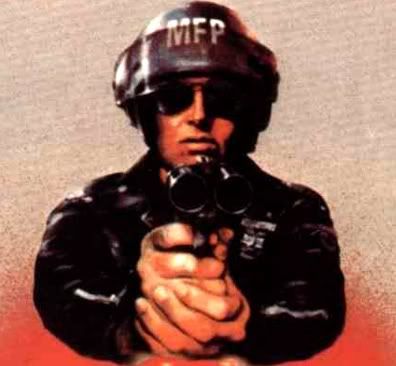 agentorange (12 years ago) Reply

I thought it went without saying it was based on a pulp character by Robert E. Howard. I'll amend the post to make it more clear that it's fiction.

Bo Bo Bear (12 years ago) Reply

Complete be crap?
open your ears, eyes, read the stories and be happy!

James (12 years ago) Reply

Eh... looks more like Solomon Kane Goes to World of Warcraft than anything Howard ever wrote... but if that's what it takes for a movie to be successful these days, I guess that's what they had to do...

Doesn't mean I have to like it, though... maybe I'll rent it when I get a free rental from the local shop... maybe.

Skinstripper (12 years ago) Reply

Heh, no, it looks more like Dungeons and Dragons: Solomon Kane. Sheesh. They could've done with less computer graphics, for god's sake.

slim (12 years ago) Reply

Thought it looked freakin awesome.

Rook (12 years ago) Reply

Looks good! It's been a while since we've had a good action movie with a spiritual twist.

ibis_mummy (12 years ago) Reply

I'm a REH nut and, although Bassett has created an origin story and strayed from Howard's work, this film is awesome. So many crappy Sword & Sorcery films have been fed to us through the decades, I think it's about time we get something with strong characters, a gritty portrayal of fantasy, gore galore and fantastic acting and cinematography. Makes Conan the Barbarian look like a steaming pile.


Cpt.No_Life (12 years ago) Reply

Nothing wrong with a good FX driven fantasy action film. I am a big fan of Howard and I hope that they do a decent job of it.

Leave a comment