Latest news
quietearth
[Celluloid 09.16.09]
movie
trailer
news
short
scifi
action
Along with yesterday's
news
of newcomer Zebediah De Soto doing a new Night of the Living Dead in 3D, that will also be an origin story, was word of a short film (a demo) he did which made the rounds in Hollywood called
Wardog
(or War Dog, or War Dogs, depending on where you look). In what looks like an all out action scifi EPIC, War Dogs features some incredible spaceships, battle sequences, and mech designs. How do we know this? We've got footage for you!
Soto originally wanted to do this with a $2 million budget. Someone give this guy $30mill so he can make it! Here's the synopsis for this flick which would be set 5000 years in the future:
In the midst of a future interplanetary civil war, Captain Benedict must lead his battalion on a mission to retrieve the coveted Enigma decoder. But when enemy forces turn the ice planet into a suicide bomb, they have 24 hours to escape and finally lay The Endless War to rest.
Teasers after the break!
You might also like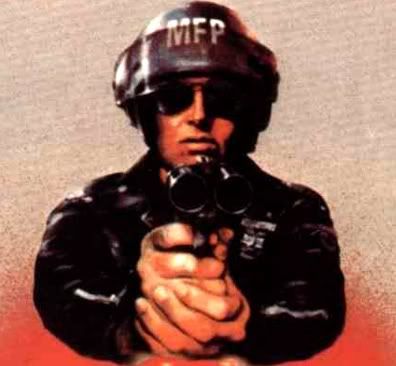 agentorange (12 years ago) Reply

Great concept. Some of the footage actually reminds me of Avalon. I'd like to see De Soto turn this into a feature.

Anonymous (12 years ago) Reply

Helmets? We dont need no stinkin helmets!

Anonymous (12 years ago) Reply

Pity that the start of the first trailer has taken the audio from Neil Blomkamp's 'Arms Race' trailer for Halo 3.

S (12 years ago) Reply

actually, the first trailer music is from battlestar galactica score
fits quite well i think, but they should have used something us nerds wouldn't recognise so easily
looks awesome though

Ganamae (12 years ago) Reply

I would very much like to see this be made into a feature film please, with so much crap being made ( and this looks like fun ) someone must want to see this film happen? surely?!

nerdychick (12 years ago) Reply

i met zeb the other night, he is SO THRILLED and honored he gets to work on this project...i think so far so good..cant wait to see it finished :)

QUADE (11 years ago) Reply

All I can say is fuckin awesome!!!!!

Hellboyz (11 years ago) Reply

This guy is the next bloody Cameron!
In a rcent interview he said he apparently put this together in five days starting from the moment he shot this ending on the fifth day of final edit! Where is this movie! I have to see it!!! :(

fanboy (11 years ago) Reply

Do a quick google search on this goober and you'll see he never finishes anything. Star child of dread central seems good at drumming up publicity out of a few quick teasers. What happened to Dead? I was dying to see that after the Fangoria convention in 2006. Then, it was Wardogs, now its Origins...yeah, right. I won't hold my breath.

Leave a comment