Latest news
quietearth
[Film Festival 09.25.09]
movie
review
fantasy
Year: 2009
Directors: Michael J. Bassett
Writers: Michael J. Bassett
IMDB:
link
Trailer:
link
Review by: quietearth
Rating: 7 out of 10
I have to preface this review by saying that I am not a fan of fantasy. I've clearly said that repeatedly in the pages here of Quiet Earth. Conan fighting trolls just doesn't do it for me. Yes, I hate fantasy. And while Bassett's Solomon Kane follows a paper thin storyline from scriptwriting 101, has far too rapid and sometimes terrible editing, and has no replayability, this film was pretty darn good (how's that for a dvd cover quote?). I know our managing editor agentorange will be happy to hear that as he's been following this one forever.
Kane wastes no time in a hasty opening that includes, in the first 5 minutes alone: ships blazing, swordfights, sorcery, and a pronounced 1980s style that fits seamlessly with the incredible production design. Kane, an evil conqueror, learns his soul has been lost to the dude downstairs as his men are rapidly picked off in a hall of demon infested mirrors. He escapes death's clutches, renounces his life of evil, and becomes a Christian man of peace. This has all happened within the first 10 minutes, and while the rapid-fire editing is glaring, it somehow did not detract from the film.
From here, simple plot devices are used to show that God has a much bigger plan for the man, and with transparent, but effective emotional attachments built and then destroyed, Kane is off and running. He's not after revenge or salvation. What Solomon seeks is completely unselfish, which consequently, makes his constitution one of the most enjoyable portions of the story. Here, Christianity is used as a device for purity, providing a moral backing we rarely see today, and with his profound about-face, we can sympathize and enjoy our protagonist's plight.
Further on the production design, while the beginning may employ a 1980s style, the rest of the film does not. The period costumes and backgrounds are spot on, and while CGI was heavily employed, the film was clearly well rounded, from the monsters right down to the boots.
There's not really much more to say on this one other then it's mind-numbingly simple and enjoyable. I'd recommend a viewing when you're in the mood for some uplifting fare.
You might also like
Anonymous (11 years ago) Reply

thanks for the review, just like agentorange ive been following this one for ages. i m a huge robert e howard fan and solomon is proably my favorite character of his. dont get this wrong but if u dont like fantasy at all, not even sword and scorcery as a genre why would you review this movie? you clearly wouldnt enjoy it, even if it was really well done as a fantasy movie. still, i m happy you were able to have a good time and give it a fair 7 out of 10. cant wait to see it myself.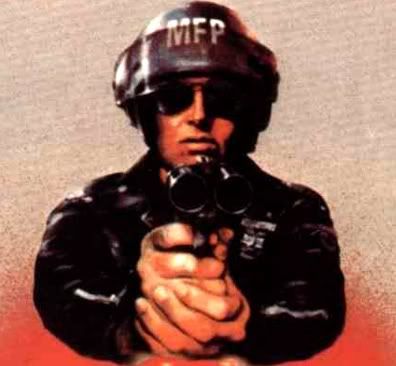 agentorange (11 years ago) Reply

Awesome. A 7 out of 10 on a fantasy film from you is like a 27 / 10 from me, so I'm betting I'll love this one ;)

Jill (10 years ago) Reply

Great Movie. SK's a great bloke. Love his boots and leather trousers. Loads of swordfighting action.

bill (10 years ago) Reply

Huge disapppointment. Poor acting, mediocre fx and silly story make sure this trash will soon be forgotten about.

Leave a comment