Latest news
Matt Davids
[Film Festival 11.11.09]
movie
interview
scifi
With budgets on the rise and total investments for studio pictures creeping toward the half a billion dollar mark, Hollywood needs a sure thing. So we hear terms like, "built-in audience" or "high-concept" or "ancillary revenues." The summer movie schedule becomes a long list of sequels, prequels and remakes in the studios' quest to recoup their investments. The success of the Transformer franchise has them scrambling. Cartoons from the 80's are now the hot property. The studios are scouring the countryside for the next Transformers. I'm hearing names that I haven't heard since I was eight, He-man, Thundercats, Go-Bots, Silverhawks and the Mighty Orbots. But one of the most popular cartoons from the 80's is still out there, Voltron.
I remember the years 1984-1986 fondly as "the Voltron years." I lived, breathed, ate and slept Voltron. I believe I was 10 when I discovered the company that owns Voltron, World Events Productions, was based in my hometown. I flipped out. I demanded my mother drive me to their offices, so I could pitch a third season. She refused. "Those shows will warp your mind," she said. Not to be deterred I mailed WEP a number of story outlines, new character profiles and even drawings of planets, spaceships and castles. I never received a response. It was a terrible blow to a socially-awkward, introverted fanboy. But as we say on Earth, "C'est la vie."
Needless to say, I was very excited to be able to chat with WEPs' Director of Project Development, Jeremy Corray, about the future of Voltron. And it seems we may be on the verge of an explosion of Voltron related media.
Jeremy, news dropped a few months ago that new producers came onboard for the live-action adaptation. Can you tell us about that?
Yeah. We are thrilled to be working with Charles Roven, Richard Suckle, Steve Alexander, Jake Kurily and the rest of the new Voltron Force at Atlas Entertainment and, of course, our old friend Jason Netter at Kickstart Entertainment to bring Voltron to the screen. If you were to put together a dream producing team for a project as big and with so much franchise potential as Voltron, this is it. From 12 Monkeys to The Dark Knight and Jason's work on Wanted, I mean c'mon, these guys set the standard for genre cinema then blow it apart with the next release. Voltron is going to be a challenge, but should really push boundaries both in special FX and more importantly in the story department.
Does this mean that the project is being completely rebooted?
Things are early right now, but it is safe to say we have heard and read some really fresh approaches to the material. So yeah, we have pressed the reset switch on the front of the old NES.
Have there been any new developments? Any possible screenwriters mentioned?
You know, I was just out there in LA meeting with Atlas and I would love to drop names. Let's just say the people who grew up as fans of Voltron are today's most up and coming or extremely established screenwriters, actors, and decision makers in Hollywood. Hopefully, we will be able to announce something soon.
A Voltron live-action movie was in development for a number of years at the Mark Gordon Company and a screenplay was written. Since then Justin Marks' script has made its rounds on the web. What was your take on that screenplay? How did you feel about the story being set on a post-apocalyptic Earth instead of the planet Arus?
Without getting into it all, World Events Productions wasn't that involved in the development of that screenplay. It was just kind of handed to us when it was done and we have learned a lesson in controlling our own destiny. Internally, Voltron HQ was split with me falling on the side of really liking it. Others thought it wasn't Voltron enough and certainly our hardcore fans have made their thoughts known on Voltron.com. I liked it a lot. But I don't think you could do that take after Terminator Salvation, but man, at the time a post-apocalyptic Voltron sounded pretty darn cool. Justin just builds this incredible world that is like James Cameron's Voltron. In fact, the one time I met him after the script was done I think he said that, "What would James Cameron do," was kind of an approach he takes. And if you check out his script for He-man and others it does kind reflect that which is awesome. Justin is a fantastic writer and we are happy we helped him form a blazing career.
The original show is available on DVD. Is there any DVD news fans should be aware of? Any plans for Blu-Ray?
The DVDs are on sale at Wal-Mart again thanks to the success of Transformers 2, but we are currently kicking around the idea of an original Voltron animated OVA to really hit the old-school fans square in the face. You know, a little more edgier, PG-13, with an anime inspired feel to the whole thing. Nothing official yet, though. Blu-Ray is always an option, I will have to status check. I am, personally, working on putting Voltron: The Third Dimension on DVD, so it will be on Voltron.com soon.
A few years ago there were rumblings concerning a new animated TV show. Did this fall through or is it still being developed? If it's still in development do you have any information you could share?
It's safe to say that a new Voltron animated series is always in some various stage of development, but yes, lately some big partners have come to the table and things are heating up more than I have ever seen them. All I can say is some big announcements are coming, but I don't want to jinx anything or announce it too soon. I can tell you the new series would be a 2-D return to Voltron's roots and will be aimed at capturing a new generation of fans. I can hear the classic fans moaning now, but that is why I want to get them the Voltron OVA. Understand, it is all about building this brand up and making sure when that live action movie trailer hits someone doesn't wonder, "Oh, is this diet Transformers?" because Voltron can be so much more than that.
Comic books have been an active arena for Voltron over the years. Is there anything out now or on the horizon?
I think once the new announcements kick in you will probably see some new content on that side. Devil's Due Publishing has been a great partner and Josh and his crew will probably cook something up. Right now you can get both the Voltron motion comics from Eagle One Media and the DDP run through Comixology on your iPhone at the iTunes store.
The fan base of Voltron has stayed strong now for 25 years. In your opinion, what's its appeal?
Classic storytelling, relatable characters, iconic designs and a splash of nostalgia.
Also, Voltron is one of those properties that actually hasn't been done to death in different media, so there is a lot of room to explore and do things right. We can tell some sides of the mythology that haven't been done while still respecting the core series. It's a challenge as we are competing in an arena Voltron helped create, so we have to be just as creative, wild, and impactful as we were back in the day to even get 30% of the eyeballs Voltron had in 1984. It's a different universe to defend now that's for sure. But we're up for it. Nothing a little passion can't solve.
Where can fans go for the latest news and official merchandise?
Voltron.com, baby.
Have you ever heard of the filmmaker who calls himself, Voltron Jones?
No, but let me Google him.
Okay, I'm back. Ha, that's great. Zombies and Kung-Fu what else do you need? There you go, man, Voltron's influence runs deep. Lots of hip-hop acts and musical groups reference Voltron or call themselves Voltron every week. I see Voltron Jones is from Russia like Timur Bekmambetov, who was always one of my dream filmmakers to direct Voltron. Let's get them talking and make a Voltron movie by Timur that would truly be different than Bay's Transformers.
What else do we need? A giant robot! Thanks, Jeremy.
You might also like
Daniel Zelter (12 years ago) Reply

Surprised you didn't mention the legal battle with Toei.

Haematobic (12 years ago) Reply

Wow I haven't heard the word Voltron in years! Hopefully they won't butcher this franchise like they did with Transformers...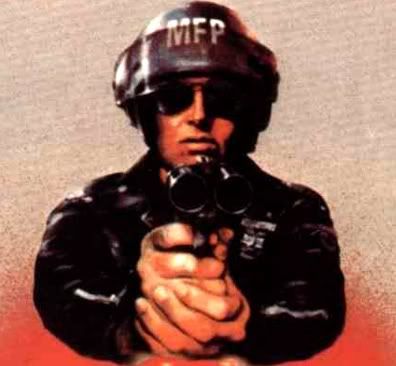 agentorange (12 years ago) Reply

It's probably smart that a live-action Voltron movie wasn't rushed into production because, as Corray says, people probably WOULD think "Oh, is this diet Transformers?" and judge it based on Bay's empty films.

Perhaps Voltron can redeem our feeling giant robot could be so much more...

Leave a comment