Latest news
quietearth
[Cathode Ray Mission 01.04.10]
post apocalyptic
news
Apparently there also two more trailers playing on the Beeb but I could only find this one. There's also a
catchup trailer
from season one. Here's the BBC
homepage
and in case you missed season one, here's a rundown:
Set in the present day, the drama series focuses on the world in the aftermath of a devastating virus which wipes out most of the world's population. What would we do? How would any of us cope in a brave, new world where all traditional 21st-century comforts – electricity, clean running water, advanced technology – have disappeared?
Survivors season two starts on Tuesday, January 12th on BBC one.
Teaser after the break.
You might also like
Ben Austwick (12 years ago) Reply

I'm glad they're running another season, though I hope they've made a lot of improvements...

Harry Fletcher (12 years ago) Reply

Agreed, it certainly needs it.

phil g (12 years ago) Reply

is it just me, or do the links on the email newsletters not work? it just says "Sorry Bub" and I have to go to the home page and search for the article direct

Ben.adam (12 years ago) Reply

it's already worth watching for the 65daysofstatic theme track ;)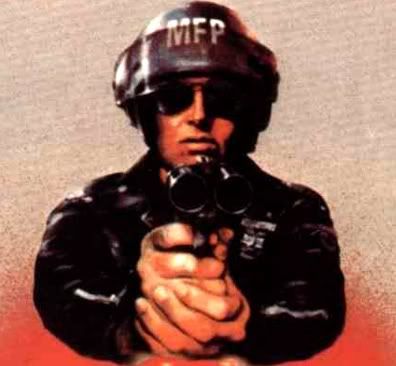 agentorange (12 years ago) Reply

Finally! May not have been the best adaptation, but season one was still a decent enough watch. Looking forward to seeing where they take series 2.

Hussman (12 years ago) Reply

I'm just happy to see this show back on

Anonymous (12 years ago) Reply

Le sigh. This, the day of the triffids and the recent decline of quality of Doctor who, are the beginning of the end of the 'resurgence' of British Tv sci fi.

rek (12 years ago) Reply

It looks like they got a bump in the budget too, if all that collapsing building stuff is any indication.

Season 1 was too tame and cozy (I know, it's British), I hope season 2 goes a bit wild.

Being Human season 2 starts this Sunday as well, on BBC 3.

wilcoy (12 years ago) Reply

BBC America will start showing season 1 next month of the remake so I hope we'll get a chance to see season 2 also. btw...For us Yanks who haven't seen the original you can see season 1 of the 1975 series at the AfterMath Show.
http://www.youtube.com/user/AftermathShow

MACSTU (12 years ago) Reply

THE WORST TV SHOW HAS A RIVAL DAY OF THE TRIFFIDS JUST MORE EVIDENCE THAT HTE BBC HAS LOST IT.

Leave a comment