Latest news
Marina Antunes
[Film Festival 02.11.10]
trailer
news
Based on a novel which is in turn based on real life criminal "Pump-gun Ronnie." Anyone can attempt to rob a bank so what's the appeal of Ronnie's story? How about the fact that aside from robbing banks, he's also a professional athlete (a marathon runner to be exact - could come in handy when trying to avoid the police).
The Robber
("Der Räuber") is Benjamin Heisenberg's second full length feature and it stars Andreas Lust as Johann Rettenberger, the bank robber/marathoner in question.
Here's the official word:
The Robber tells the story of a multitalented man: Johann Rettenberger is a successful marathon runner and a serial bank robber. Soberly and precisely he measures his heart rate, strain, stamina and efficiency – both during training runs and bank raids, from which, concealed beneath a ludicrous mask and armed with a pump gun, he takes flight from the police. He lives, undiscovered, with his girlfriend Erika in Vienna. However, his addiction to the passion, the kick, the exercise and the symmetry of the perfect robbery propels him to take off for a regular fix – as much as three times a day. When he is discovered, he bolts, as fast as his legs will carry him, from a massive police cavalcade. Somebody like Johann has no goal: he keeps on running because what he seeks is a pure and permanent state of motion. His flight forces him to press on and on – but he has no intention of ever arriving.
I'm not familiar with this story and have no idea how it ends but I'm game to find out for myself. And man, that mask isn't really scary but it totally creeps me out.
Trailer after the break.
You might also like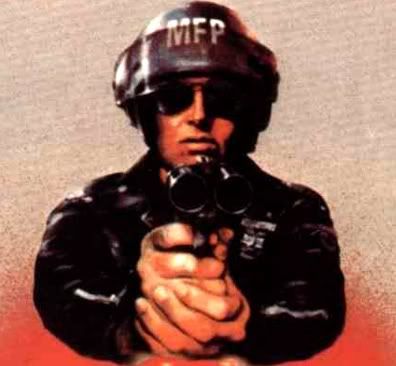 agentorange (12 years ago) Reply

Man, I can't believe that's a true story. Creepy mask indeed. Good trailer, though I wish it was subbed.

Ben.adam (12 years ago) Reply

There wasn't said much, especially nothing concerning a better idea of the plot. The story is afaik hardly known in Germany, (whereas I can't speak for austria) but I remember having read something about this once.

Anonymous (12 years ago) Reply

Woman: You are running again?
he: I never stopped.


guy behind desk: you will hardly earn money with running (nice joke)

Leave a comment