Latest news
quietearth
[Celluloid 02.18.10]
post apocalyptic
trailer
news
cyberpunk
short
scifi
action
comic
"Frame137" a film based on the works of James O'Barr, the creator of The Crow. The comic first appeared in Dark Horse Presents, and was expanded by Judd Tilyard into a short film in 2009 after several years of development. The short was shot on Red and the 10 year old hero, Jonny Z (played by Sam Ransom) actually performed all his own stunts including the fire breathing and wire-work, some of which is showcased in the Teaser. Seriously folks you need to check this out, it's badass!
Very scrunched trailer after the break.
You might also like
Anonymous (12 years ago) Reply

Making the set of Frame 137:
http://www.youtube.com/watch?v=M9KYSfEbIyE

http://www.myspace.com/frame137

wheatley_s (12 years ago) Reply

looks pretty badass to me

Anonymous (12 years ago) Reply

what happens if he asks hit girl out on a date, I bet she would slap him in the face and kick his ass if he triad anything funny.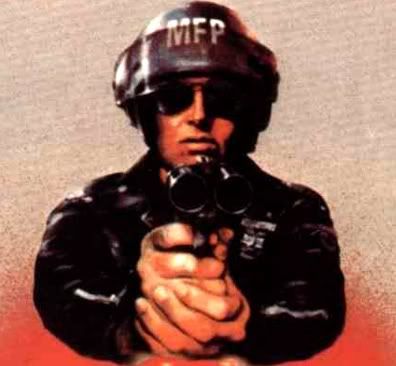 agentorange (12 years ago) Reply

Scrunched indeed. That's one hell of a widescreen treatment.

Awesome trailer.

lbj (12 years ago) Reply

I stopped reading after "A ten year old kicks some ass..."

daaaaaaaaa (12 years ago) Reply

Eddie Furlong time travel detected.

Crappy title. Also, too much moody pouting. Does the whole film take place in the one room?

Hitgirl from Kick-Ass would wipe the floor with this jerk.

WatchThe Making (12 years ago) Reply

It's hard work making a movie if you didn't know. This was most likely him making a teaser to fund the actual movie. Watch the making trailer of this. It shows how much the director improvised,yet made such a great short

Anonymous (12 years ago) Reply

JOHN CONNOR??? :)

love it.

witchman (12 years ago) Reply

love this....http://www.youtube.com/watch?v=M9KYSfEbIyE

Anonymous (12 years ago) Reply

I don't think so, my disbelief can't be suspended for tat long, sorry

Leave a comment