Latest news
quietearth
[Celluloid 05.13.10]
movie
trailer
news
scifi
comedy
This has been along time coming and we finally have some new footage to show you thanks to a heads up from our friends over at
Opium
. And yes, this does contain ACTUAL footage that will be in the final film. I repeat, this is not a test.
Towards the end of World War II, in 1945, the SS officer Hans Kammler's staff made a significant breakthrough in anti-gravity research. From a secret base built in the Antarctic, the first Nazi spaceships were launched in late '45, and they founded the military base Schwarze Sonne (Black Sun) on the so-called dark side of the Moon. The purpose of this base was to build a powerful invasion fleet and return to take over the Earth once the time was right.
Trailer after the break.
You might also like
chuck (12 years ago) Reply

One small step for man, one goose step for mankind!

Fat Legs (12 years ago) Reply

Production credits at end say in association with Walt Disney Finland ha ha how appropriate!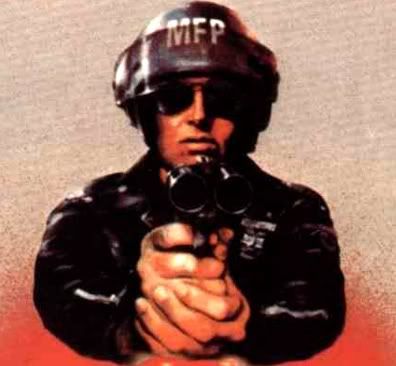 agentorange (12 years ago) Reply

Wow. Very nice work.

Anonymous (12 years ago) Reply

Score by Laibach and Siddharta. Love it!

Clifton_Santiago (12 years ago) Reply

There's a Walt Disney Finland? Well, Walt Disney was good mates with Leni Reifenstahl.

The Man from the Ministry (12 years ago) Reply

Walt Disney was also a racist - if you look at some of the early Disney films, there's plenty of racist stereotypes in there, especially anti-Semitic stuff. He also made false accusations of "Communist sympathies" against his film industry rivals, employees he wanted rid of and anyone he had a grudge against generally during the McCarthy witch-hunts. I believe that, along with Ronald Reagan, Disney was one of the people who got the most people blacklisted.

Anonymous (12 years ago) Reply

these guys made £150.000 off their last production, but it was only possible with the assistance of over a thousand people online, providing technical support. None of these contributers were paid. Sweat shop filmmaking puts all of us legitimate low budget producers in jeopardy

Amon Goethe (12 years ago) Reply

This does not look nearly as funny as Mel Brooks' "Jews in Space" (lets Kike some Ass!). I hope Lutz Westermann can pull it of, but with great comedy classics from pedophile Polanski's "The Pianist" or the hilarious "Schindler's Lisp" it will be tough going. Still, it would be nice to see a more serious approach to the NAZI menace on celluloid the the historically accurate and sobering "Inglorious Basturds". Not enough can be spent on educating the world how 60 billion Jews were killed again, again again aye yey yey already...

Leave a comment