Latest news
Marina Antunes
[Celluloid 06.15.10]
movie
trailer
news
action
adventure
history
There are a few things that make me happy. Very very happy. One of them is swords. Another one happens to be Michael Fassbender. Put them together and voilà ! Match made in heaven.
Though the
Jonah Hex
people are hiding Fassbender behind Josh Brolin and Megan Fox, Neil Marshall is giving Fassbender the attention he deserves and the talented German is front in centre in
Centurion
not to mention featured prominently in the trailer.
We've already seen a trailer for the film and heck, we even have two reviews (one
more favourable
than the
other
) but either way, I can't be disswaded from wanting to see it and this red band trailer only makes me want to see it more.
The red band trailer made it's big splash on Hulu earlier, keeping non-Americans out of the action but we love to share with everyone. A trailer everyone can watch is below.
Bring on the blood!
Trailer after the break.
You might also like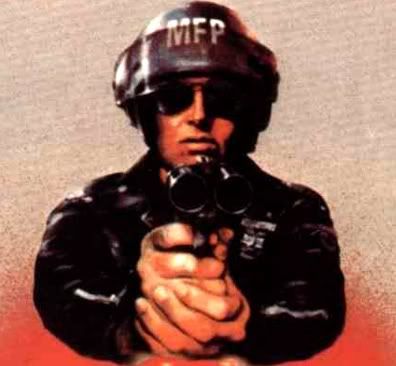 agentorange (12 years ago) Reply

Bring. It. On. Marshall's easily one of my faves these days and this looks like a real brawling good time. Can't wait!

Michael Allen (12 years ago) Reply

This flick is getting some early poor reviews, but I still want to see it. Promo' material is good.

Anonymous (12 years ago) Reply

I've only ever walked out of two films in my life and this was the second. Utterly dire, Neil Marshall, don't believe the hype. watch valhala Rising instead, or the live action version of Beowulf and Grendal

WEB SHERIFF (12 years ago) Reply

WEB SHERIFF
Who You Gonna Call
Tel 44-(0)208-323 8013
Fax 44-(0)208 323 8080
websheriff@websheriff.com
www.websheriff.com

Hi Marina,

On behalf of Magnolia Pictures and the movie's producers, many thanks for plugging "Centurion" ... .. and if you / your readers want good quality, non-pirated, previews, then the official trailer is available for fans and bloggers to post / host / share etc via the official site and via IGN at www.centurionmovie.com and http://media.movies.ign.com/media/143/14332808/vids_1.html ... .. for further details of on-line promotions for this movie and Magnolia releases generally, check-out www.magpictures.com and their YouTube channel at www.youtube.com/user/MagnoliaPictures .

Thanks again for your plug.

Regards,

WEB SHERIFF

steve (12 years ago) Reply

fuck off web sherriff and get a real job

Anonymous (12 years ago) Reply

This looks lame.

BLACK DEATH doesn't.

rek (12 years ago) Reply

Cheer on the villains, eh?

Let's see some movies where the resistance fights of WWII are the bad guys and we're supposed to care about the Nazis.

Leave a comment