Latest news
Marina Antunes
[Celluloid 07.15.10]
movie
news
western
Were this information for any other movie, I may not bother to share it just yet, choosing instead to wait for a trailer or footage from in front of the camera but frankly, there aren't enough westerns being made and not nearly enough that have this much potential so you get the kitten caboodle early.
It was announced last year that long time Alejandro Amenábar (
Open Your Eyes
,
The Others
,
Vanilla Sky
) collaborator Mateo Gil (who has co-written all of Amenábar's films) would be making his directorial debut with
Blackthorn
, a sort of sequel to
Butch Cassidy and the Sundance Kid
. The film stars Sam Shepard as Butch Cassidy, now an older man living in Bolivia, raising horses under the name of James Blackthorn. Wanting to see home one last time, he heads back to the US but along the desert, he comes across Ernesto Apodaca (Eduardo Noriega), a mine engineer on the run after having robbed a mine. Needing money and feeling sorry for the kid, Cassidy heads off across Bolivia with Apodaca on one last adventure. The film also stars Magaly Solier as Cassidy's love interest in Bolivia and Stephen Rea in what I can only assume is the role of sheriff or bounty hunter.
We haven't seen anything from the film since it started (and finished) filming in Bolivia but there's a bit of behind the scenes footage which appeared online a few days ago which gives us an idea of what to expect. It also features some interviews (in Spanish) but you get a bit of a sense of what Gil is working on. As a bonus, we've also dug up what appears to be the first bit of artwork for the project.
It certainly looks like a promising production and hopefully we'll get to see a few more tidbits in the coming months as the film is currently in post production and is scheduled for release in 2011.
More as it comes but for now, check out the footage and artwork after the break.
You might also like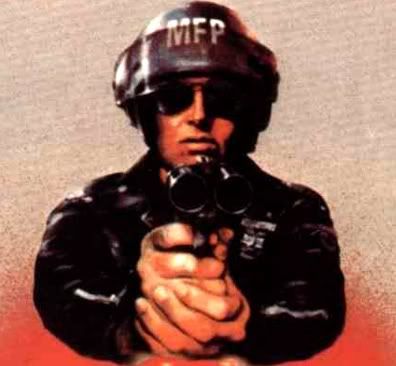 agentorange (10 years ago) Reply

Looks great. I'll be keeping an eye out for this.

espanolete (10 years ago) Reply

Mateo Gil directed before one film "nadie conoce a nadie" several shorts and a tv-film and yes i hope it will be great.

Leave a comment