Latest news
Christopher Webster
[Celluloid 02.01.11]
post apocalyptic
movie
scifi
video
dystopic
gallery
art
War with the Newts is based on the 1935 Czech novel by Karel Capek which was continued as either a comic or a newspaper strip. Back in April 2009, we brought you a
concept teaser
and news that the project was looking for backing.
Well I don't know if this awesome new artwork that
Twitch
uncovered means that the project is full steam ahead, but it's sure created some excitement around here and I intend to get to the bottom of it.
The story is based on some strange intelligent creatures living in the pacific ocean which get used as cheap labor and then rebel against their evil human overlords. I sense a metaphor in there somewhere.
Anyway, more as it come. Check out the artwork after the jump!
VÁLKA S MLOKY concept teaser
You might also like
Todd (11 years ago) Reply

What they told me is 90% financed, aiming to start shooting before end of year, release in 2013.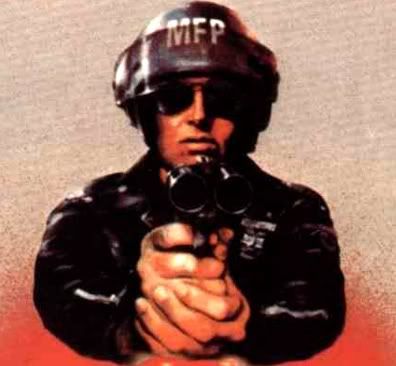 agentorange (11 years ago) Reply

Nice! Thanks for the update, Todd.

rek (11 years ago) Reply

Intriguing!

development (10 years ago) Reply

Does anyone have contact info for the production company/rights holders?

sasgon (9 years ago) Reply

Great stuff. The book was a parallel to the Nazi build-up towards world domination. The newts tell man, "You know you're going to lose, so accept our conditions and give us the world peacefully. Man is relegated to higher ground, as the newts flood coastal plains to create breeding grounds.

Leave a comment