Latest news
Christopher Webster
[Celluloid 04.15.11]
movie
apocalyptic
news
short
scifi
Forget
Rise of the Planet of the Apes
' depiction of how our species will succumb to the power of genetically modified monkeys. Spanish director, Javier Chillon, already got it right with his 2009 short
The Schneider Disease
("Die Schneider Krankheit").
Back in 2008 we brought you
the trailer
for the film that depicts an epidemic occurring after an ape mysterious descends from space and now the entire short is available to watch! A perfect blend of newsreel, visual FX and creative storytelling it's really one to watch.
Synopsis:
The Fifties, a Soviet space shuttle crashes in West Germany. The only passenger, a cosmonaut chimpanzee, spreads a deadly virus all over the country…
Check out the entire film after the break.
Via:
Genre Addict
You might also like
Anonymous (9 years ago) Reply

Nice short...but Javier Chillon most certainly is not German. It's made to look like a german documentary from the late 50s and it has German speaking narrator, but besides that there's nothing German about it. Even the headline of the newspaper article at 01:26 has some hilarious grammar mistakes...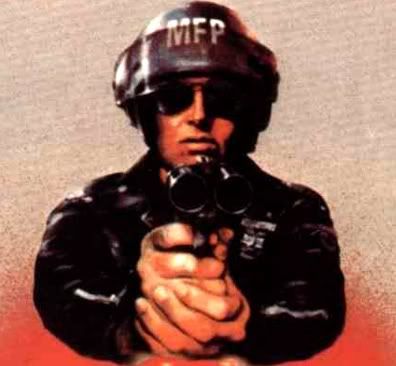 agentorange (9 years ago) Reply

Thanks. My first clue should have been that he has a Spanish name. Fixed.

Genre Addict (9 years ago) Reply

My mistake on the German thing, he's from Madrid. My mistake, it was on his Vimeo profile and I conveniently ignored it. Thanks for the correction!

Karmah (9 years ago) Reply

Uhmmm I think this might be a viral for the PS3 game Resistance: Fall of Men 3. Due to the name Chimera.

What do you think?

Leave a comment