Latest news
Christopher Webster
[Celluloid 05.10.11]
movie
news
I don't think I'm being presumptuous when I say that VHS has officially made a comeback. Granted it's with the retro movie hipster crew, but with a slew of
new blogs
fetishizing the lost format springing up and fans of tape starting little communities on twitter thanks to guys like filmmaker
VHSisthetruth
and retro release companies like our pals at
Severin
, I think it's only a matter of time before everyday movie fans are drawn into the frenzy.
But wait, there's more!
Mondo
, the collectible art boutique arm of Alamo Drafthouse Cinema who release the uber popular geek movie posters, have just announced their intent to bring VHS back with their new offshoot, Mondo Video. Mondo's first release is
Sledgehammer
, a joint venture with the above mentioned Severin Films.
Companies are now making
VHS / Blu-ray combo players
and even books like
Portable Grindhouse: The Lost Art of the VHS Box
prove that people are drawn to the unforgettable format.
So what are my thoughts on this recent VHS resurgence? I think people quest for authenticity and VHS is an obvious place for movie collector geeks to turn to in a world where everything is picture perfect and at your finger tips. But while I think fondly upon the innocent days of VHS, it would be a stretch to say I pine for any kind of return to annoying tracking issues, pan-and-scan hack jobs and a loss of bonus features. Plus, seeing old films get new life breathed into them because of Blu-ray fills me with enough geek giddiness already.
But I'm curious what you guys think? Would you pick up a VHS player and pick up new VHS releases?
You might also like
Lenny (9 years ago) Reply

I buy PA stuff that still hasn't been released on DVD all the time so I have a couple VCRs still. One hooked up to the big screen anlong with my Nintendo 1 and 2 emulator. I would way rather have a DVD/BR tho so I don't know how into this rebirth I am. I'm just doing what I have to in order to get the good stuff from BITD. Many flix discovered from this very site!

mostlyvillains (9 years ago) Reply

I never got rid of my VCR, and have dozens of titles hidden away from my days working at a video store. I have a lot of stuff on both VHS and Blu-Ray. Something about the picture quality on a crummy old VHS tape makes me warm and fuzzy feeling.

mostlyvillains (9 years ago) Reply

I don't know about new stuff though.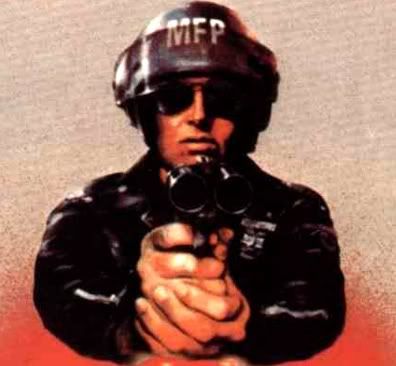 agentorange (9 years ago) Reply

Yeah, there are a lot of films that were never released on DVD let alone Blu-ray. I got rid of my VHS player a while back, but I have to admit that I am always tempted when I see an old film that's only avail on VHS. I just cross my fingers that a boutique label will re-issue it.

Brett (9 years ago) Reply

I still have my dvd/vcr player hooked up, but I only own two vhs nowadays. I have my old copy of the french film Tchao Pantin and Towers Open Fire by Burroughs. Admittedly, every time I go to a junk store or flea market, I always browse the vhs selection to see if some lost rarity will jump out at me.

projectcyclops (9 years ago) Reply

I still use my combi VHS player every so often, still own about a hundred VHS tapes or so, some films taped off tv, old film bought from charity shops that aren't on dvd.

I still think that the vhs version of Day of the Dead is superiour to the dvd in some respects. It's even more grim and depressing.

ChrisR (8 years ago) Reply

is that a VHS copy of 'Crash and Burn' I see in your pocket?

wolfeyes (9 years ago) Reply

I've watched Dark Star at least 6 times on a worn-out bootlegged VHS tape. For me at least, there's something comforting about the low fidelity of tape for certain titles.

However, I'm against new VHS releases unless they're reusing old tapes in DIY fashion (like many indie record label cassette tapes). These aren't vinyl records after all.

Anonymous (9 years ago) Reply

I'm glad wolfeyes brought up vinyl. Records have continued production, and reissues of lost classics on record have been very successful with collectors. But in this case, I don't consider VHS to be like vinyl, but more like cassette tape. Will cassette tape come back next?

ReplicA (9 years ago) Reply

I can understand the appeal. It's not my thing, but the nostalgia can override any kind of regular "sense". No they're not like Vinyl records, since with those, the audio quality is arguably better, and with VHS, it's obviously worse. But it IS nostalgia, and that can really drive collectibility.

I know for me, they remind me of sneaking into the horror section of the videos store as a kid, so I could see all the gross, and cool vhs covers (religious upbringing). It was just so cool. And also, up until last month, there was a video store here in Washington state that still rented video tapes.

geoduck (9 years ago) Reply

I'm such a luddite I'm still using a VCR to tape stuff off TV for viewing.

(8 years ago) Reply

I still own two VCR's but one is starting to reach the end of its life span so I am buying a new Panasonic DVD/vcr combo on amazon since VCR's are no longer available from the local stores . I still own a lot of vhs tapes and yes VHS is easy to use when recording from TV. YES I do own a blu-ray player but vhs still rocks especially the 6 head systems great quality and sound. :)

Leave a comment