Latest news
Christopher Webster
[Celluloid 12.09.11]
movie
news
horror
For his last two films, Neil Marshall has veered away from the horror genre to dabble in the apocalypse with Doomsday and historical action with
Centurion
. Some have complained about Marshall's recent efforts, but not me. They prove that the guy can do pretty much anything well. But now it seems the UK director is in talks with CBS to return to his roots and helm a straight up slasher pic called
Hellfest
.
The talks are reportedly early, but word is that the movie is about "a costumed killer who systematically slaughters the unsuspecting visitors who come to a theme park on Halloween night" and the plan is for the film to launch a new horror franchise.
Hellfest will be produced by legendary Gale Anne Hurd (
Aliens
,
The Walking Dead
) through her Valhalla Entertainment. The script is by William Penick and Chris Sey (
Secrets in the Walls
) .
If Marshall signs on to the project, it sounds like it will be fast-tracked and be his next film. He is currently in post production on "Blackwater," an episode in the second season of HBO's
Game of Thrones
.
You might like:
Doomsday
Via:
Deadline
You might also like
Rev Wright (10 years ago) Reply

Centurion was one of the worst films I've ever seen, then again I don't really like Dog Soldiers. Marshall was dropped off Drive, for the superior Refn. I can't hold my breath for a director who is a poor version of Paul W Anderson keen to make direct to DVD fayre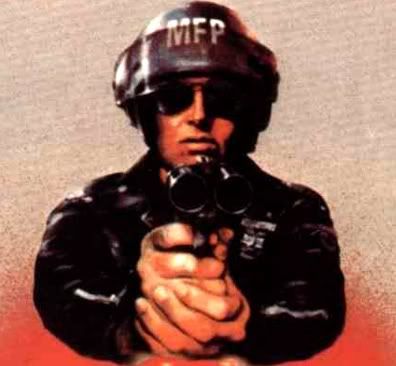 agentorange (10 years ago) Reply

Marshall wasn't dropped from Drive, he was part of a different package that fell through for various reasons.

Remember, Gosling wasn't originally intended for Drive either. Does that mean Hugh Jackman is less of a desirable actor for the film? Hardly, considering his box office draw if light-years away from Gosling's.

Rev Wright (10 years ago) Reply

Box office draw versus decent film, hmmmm......

considering that Drive cost $13Million and has so far returned $66Million, seems Refn and Gosling are in on both counts. Yay, for decent filmmaking

j.j. (10 years ago) Reply

I have to say - Centurion was poor. Especially the big climactic fight scene at the end involving about 6 people! And the tracker who could smell the soldiers from a-far but not when they were underneath her! Anyway, I'm glad he didn't get Drive. He's not up to making films of that calibre with all due respect to him. But he's a decent enough genre filmmaker. You'd have to be a tough reviewer to say much bad about The Descent.

Leave a comment