Latest news
Christopher Webster
[Celluloid 03.27.12]
cyberpunk
scifi
Apparently all the pre-trailer trailers for Prometheus have changed marketing forever. At least when tentpoles are concerned. I guess we shouldn't complain, because while we're being manipulated into building double the hype, we at least get an early look at the films we're all excited for.
This small look at the new Total Recall reboot is filling me with hope. I see a lot of Minority Report here. Some Blade Runner influence, all will a down-to-earth five minutes in the future kind of vibe. So the film is slick, the real question is: will it excite when we all know the story so well?
Synopsis:
Total Recall is an action thriller about reality and memory, inspired anew by the famous short story "We Can Remember It For You Wholesale" by Philip K. Dick.

Welcome to Rekall, the company that can turn your dreams into real memories. For a factory worker named Douglas Quaid (Colin Farrell), even though he's got a beautiful wife (Kate Beckinsale) who he loves, the mind-trip sounds like the perfect vacation from his frustrating life – real memories of life as a super-spy might be just what he needs.

But when the procedure goes horribly wrong, Quaid becomes a hunted man. Finding himself on the run from the police – controlled by Chancellor Cohaagen (Bryan Cranston), the leader of the free world – Quaid teams up with a rebel fighter (Jessica Biel) to find the head of the underground resistance (Bill Nighy) and stop Cohaagen. The line between fantasy and reality gets blurred and the fate of his world hangs in the balance as Quaid discovers his true identity, his true love, and his true fate.
Total Recall stars Colin Farrell, Kate Beckinsale, Jessica Biel, and Bryan Cranston.
Total Recall opens August 3, 2012.
You might also like
Beppe (9 years ago) Reply

If you are married with Kate Beckinsale you don't have to buy memories of some other guy.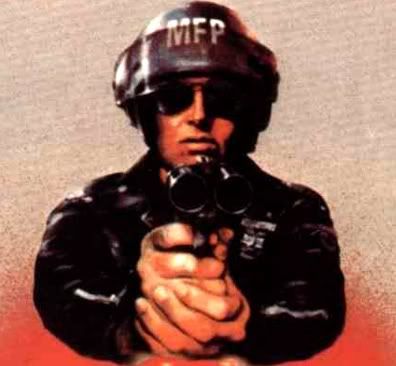 agentorange (9 years ago) Reply

No doubt

kbull (9 years ago) Reply

Beppe's got that one right! I'd buy memories of her though

Lenman (9 years ago) Reply

They had better have 3 titted prostitutes!

Michael Allen (9 years ago) Reply

Haha, the trailer for the trailer. I guess I have to accept this trend, but it is ridiculous. 2 years from now and it will be the norm.

WhyOfFry (9 years ago) Reply

Pre-trailer? It's a teaser! An old thing with the nice added function of telling us, when we're seeing the real trailer. I wish all the teaser trailer did that..

soma (9 years ago) Reply

no one can top arnie

ifdead (9 years ago) Reply

The mutants better be good. "Get your ass to Mars"

Leave a comment